1.- Why did you choose to volunteer in Chile La Serena, what program(s) are you doing and why?
Why Chile: I chose Chile because it is the safest country in South America
What program: orphanage
Why this program: I have always been interested in working with kids and I wanted to help and support children who need it the most
2. What was the most surprising thing you experienced while in the program?
Program: I wasn't really sure how hard it is to watch and entertain all the kids at the same time and how well they are taken care of.
Host Family: My host family was super nice, I felt very comfortable and I really liked the food!
Country: I didn't expect Chile to be so European, I have been to Costa Rica before, so I was hoping for a little bit more South America flair…
3. What was the most difficult thing you experienced while in the program?
Program: It was sometimes hard to know how to deal with the kids because I didn't  know what they were allowed to do.
Country: I thought it would be way warmer than it was… And at first the public transport system can be challenging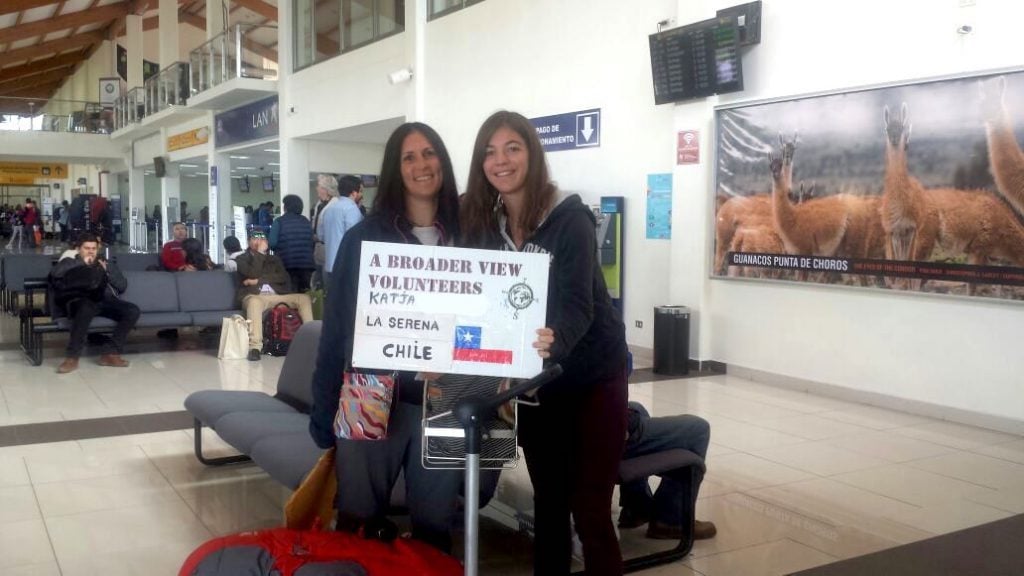 4. Any tips for future volunteers….
Clothing: warm clothes!!
Sightseeing: Isla de Damas, weekend trip to Valparaíso
Laundry/internet: Has to be paid separately (described in website, guides)
5. Other things volunteers should know about:
a.- City/town: It is nice, but there is not so much going on there, the mall is ok and there is a cinema, the Beach is far away (4 miles) , but cool
b.- Weather: in the morning it is always chill and cloudy and during the day it normally clears up and gets (more or less) warm (Spring time)
c.- Local People: the locals are very friendly and helpful, but also shy and mostly don't know any english
d.- Tours: Isla de Damas is nice and a trip to Valparaíso!
6.  Personal paragraph (volunteer program testimonial), detail as possible:
This was the second time I volunteered and I am really Grateful for this wonderful experience. The orphanage is far and not even in La Serena it took me normally at least 45 min by bus (traffic its 8 miles from the house) to get there… I really enjoyed playing, feeding, helping the kids it is such a nice (and sometimes exhausting) work. In the evening I normally went to the gym where I made some really good friends! Now, I am looking forward to traveling around and get to see more of Chile! 🙂
7. How would you describe your:
Accommodation: It was really nice, I had my own room and shared a bathroom.
Meals (favorite): I loved them all, after eating  rice and beans for 2 months I was really Grateful for all the delicious food I got served!
Security: I always felt very secure, Chile is Nummer 29 worldwide from the safest countries (US is number 94)
Host family: My host Family was very very nice, I got along very well with them, especially Vilma always made me feel welcome!
8. What was your memory of this trip?
Program: I loved all the kids, everyone we and unique! The "tias" do an excellent job with the kids, half of the time I even forgot that it was an orphanage….
Host Family always friendly, helped me with everything I needed, we talked a lot in Spanish so I could improve my Spanish skills
Country: Chile is a very interesting country, 4000km long (which I definitely underestimated), long history and worth a trip:)
9. How was the local ABV Coordinator, the staff and the support provided in-country:
very good, I didn't need any special help, but I am sure it would have been provided kindly