Volunteer Ecuador Galapagos Island, This was a great project for myself and my 14-year-old daughter, who wants to become a veterinarian. She really grew up a lot in the last 4 weeks.
1- How were the local ABV Coordinator and the support provided in-country?
The coordinator was fine and provided great support in country. We were given lots of help orienting around and Laura and her daughter were kind enough to walk with me to the Basilica one day. We felt very welcomed and included in their family life.
2- What was the most surprising thing you experienced?
For the second two weeks, I was surprised that credit cards are not accepted in most of the Galapagos (except very high-end restaurants). This was a problem for us, as our clothes became pretty filthy when it rained in the highlands and we needed to do laundry a few times. Things are definitely more expensive in the Galapagos then in Quito, and perhaps volunteers should bring more cash.
ABV: the volunteer guide describes money situations, prior leaving Quito get US$10 bills prior to traveling to Galapagos
3- What was most difficult to experience?
For my daughter, it was hard to work in the fields since there were no adequate bathroom facilities. 
4- Any tips for future volunteers… (Clothing, travel, personal items, donations)
If you are working with turtles in Galapagos be prepared to work in rain/mud – it never gets cold but it does get a tiny bit chilly. Not too many bugs, which surprised me, but we definitely needed our work gloves. (You could purchase them here if you wanted to.)
5- Personal Paragraph (ABV Program Testimonial):
Quito and Galapagos are almost like different countries! The people are incredibly friendly in both places, and in the Galapagos, I'm not at all worried about theft or walking alone at night. We learned a lot about their struggles with invasive species, worked really hard in the fields and helping with their efforts to keep turtles in a safe environment but had a chance to explore the island every afternoon. At our work project, there was almost nobody who spoke more than pidgin English, so I'm glad we had the chance to take lessons and assimilate to the culture a little more in Quito.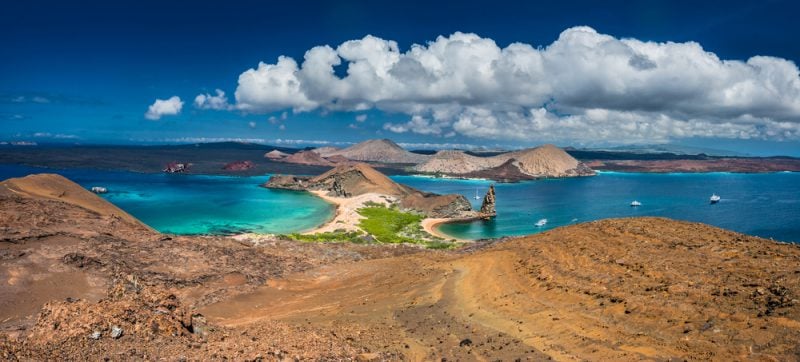 This was a great project for myself and my 14-year-old daughter, who wants to become a veterinarian. I think it could have been even better if she spoke Spanish at the B1 level since there is a local mobile veterinarian who may have been willing to have her assist him. I also think that if she was College age and interested in becoming a veterinarian it would have been an even better experience. That said, the educational/experience value for her has been tremendous. She really grew up a lot in the last 4 weeks.
6- How would you describe your accommodation, meals, security (e: host family, on-site, shared)
We lived with a host family, our hostess was very kind. No issues with security – we had hot water in our own bathroom and the food was wonderful.
Go to Galapagos
7- What was your favorite memory of this trip?
The best leisure activity was the day-long trip around the Island of St Cristobal. We never needed to leave the island – 90% of the species in the Galapagos are here, including Blue-footed boobies and tortoises and many other birds. To see penguins and the lava tubes you would go to the islands but your choices are very long boat rides or flying, so we took day tours and snorkeled and saw everything I would want to see. the interpretation center is wonderful.
8- How was the ABV USA support prior to traveling?
Awesome – answered all my questions and our trip has gone off without a hitch.
9 – Are you willing to speak to other potential ABV volunteers?
Sure