1) How were the local ABV coordinator and the support provided in-county?
She was perfect, she was the epitome of calm and support.  She completely stopped what she was doing to answer questions or give us direction.  Irma and Alan of the after-school program were also especially accommodating.  Everyone of them was also fun to be with.
2) What was the most surprising thing you experienced?
I was surprised by how much I wanted to completely uproot my life and move it to Xela.  I loved the people, the food and the language.
3) What was the most difficult to experience?
Leaving the children was definitely the most difficult experience, especially at the shelter.  The girls at the shelter had deep deep hurt.  They wore so much of it on their faces, I wanted to take them all home with me.
4) Any tips for future volunteers (clothing/travel/personal items)
Bring a full size towel for the home stay or buy one locally and leave it for your host family.  It is a nice gesture, but you will fall in love with your hosts and truly want to leave something.  An umbrella, a sweater and short sleeved shirt everyday, because everyday has extremes.  Oh, and wash the dishes for your hostess. It is the least one can do for the all that they do for you.
5) Other things volunteers should know?
Xelapan has tremendous pastries!
Did I mention a trip to Xelapan?
Xelapan cream filled anything?
Xelapan!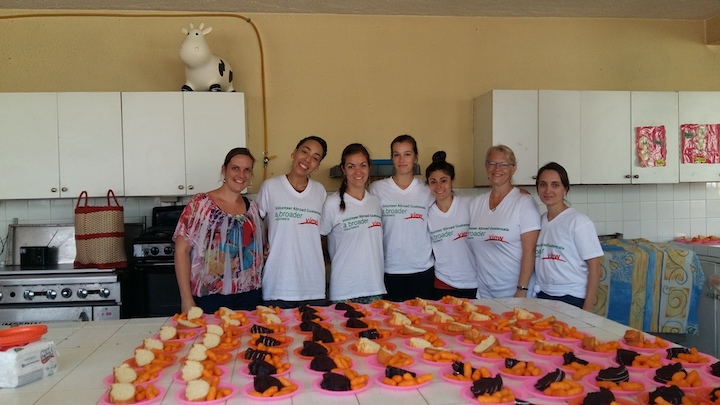 6) ABV Testimonial
This week was an amazing experience. On my first day at the shelter, I saw two girls separate themselves and cry huge shoulder heaving tears without sound.  One told me she had only been there two days.  I sat with them, held their hands, kept their hair out of their eyes.  Their hurt was so deep.  I told them how important they were. They clung to me when I saw them two days later, they ran to me.  On the last day she barely left my side and just kept hugging me.  Before I left, she told me she would never forget me.  I know I will never forget her.
7) How would you describe your accommodations meals/security
Jovita was more perfect than perfect.  She was so sweet and helpful.  She was also an excellent cook.  I loved the stories we told around the table (sobre mesa).  It drew us even closer together.  I could have moved in forever!
8) What was your favorite memory of this trip?
There are too many to choose from.  I loved all of the children's arms around my waist, the warmth of the Xela people, the hot springs, the weaving opportunity, our hostess, our program heads, the food (Xelapan!) the fabrics, and how close we all became as a group.
9) How was the ABV USA support prior to traveling?
They were very helpful in answering questions and making certain we had all our paperwork in.  They were quick to get back to us.
10) Are you willing to speak to potential ABV volunteers?
Absolutely!  Any time.