Volunteer Galapagos, I am very enriched by my experience. The two home stays and 3 volunteer sites opened up Ecuadorean culture in a diverse, and intriguing way. In Quito, the daycare workers showed so much skill and kindness to underprivileged kids.
1.- How was the local ABV Coordinator and the support provided in-country (airport pickup and drop off, orientation, introduction to work, availability, other)?
Excellent. Felt at home. Laura and Vicente fed me exceptionally well, loaned me a bike for Ciclovía, included me in family life and errands, accompanied me to Historic Center, as well as facilitated airport meet up and drop off.
Since my stay was short, Laura had to do a lot on my behalf within a short time frame.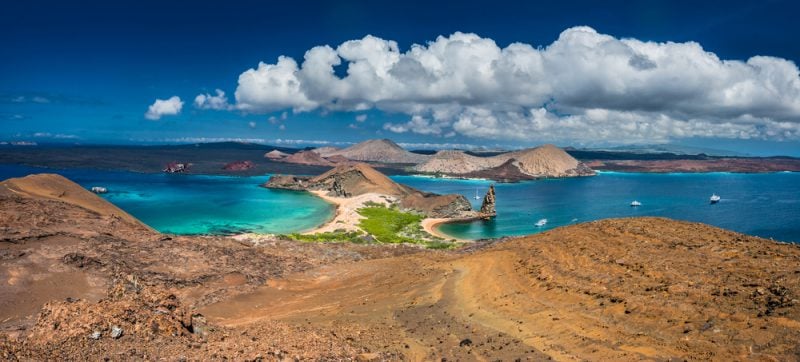 2- What was the most positive surprise you experienced?
At the program: Visit the home of a widowed, farm woman on San Cristóbal Island. We harvested mandarins and squash and helped her cut up fresh pork from an animal butchered that morning. She was preparing it for sale at the market. She made us lunch. I was surprised by her skill and spirit for a recently widowed woman. Her story of arriving by boat to the island in 1975 and subsequently saving funds in order to buy land was very compelling.
At the accommodation: The quality of the food offered was lovely, especially tropical fruits. In the homes, markets and on the farms finding passion fruits, papaya, pineapple, citrus and banana varieties was really rewarding.
The level of intimacy shown at both accommodations was positive. I enjoyed learning of personal struggles as well as countrywide ones.
I enjoyed accompanying Laura to her daughter's school, where she sold snacks during basketball and soccer, family tournament. Such a cultural eye-opener. She had ordered stuffed potatoes but they did not arrive so we had to run around, by foot, finding sandwich fixings…
I felt that I had penetrated Quito far more than any tourist might. I was the only foreigner present.
About the country: I really loved San Cristóbal…its abundant reptiles, birds and lava formations. Honor to see it. Thank you!
Ecuador is incredibly diverse. I intend to return.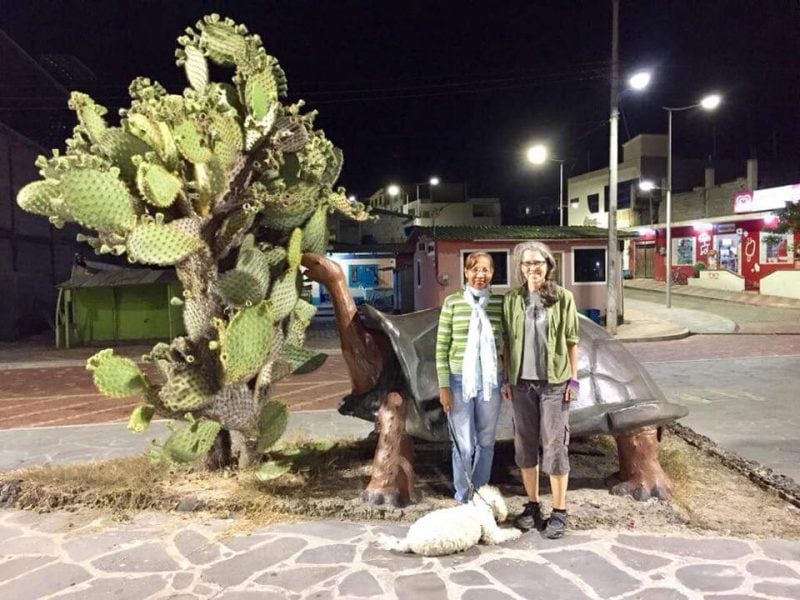 Here is a poem I wrote:
The earth remains parallel and familiar. We are all indigenous, even if disconnected from the places that crafted our ancestors.
In the skeletal, young Galápagos where
sapiens did not penetrate until recently, our kind
respires and feeds works and rests,
among dry, poking plants that live nowhere else.
What we can do is take care of the place where we find ourselves,
wherever we are, reflect earth,
her relentless discovery of beauty,
shocking, momentous as it is. Though it struggles under her volcanic impulses, her quakes, her tides, her flames, her destructive goats and the contrary doings of her misfit,
almost alien children, still it shows up, keeps itself. Among tossed cups and candy wrappers, it is a delicate finch hiding in the cup of an endemic cactus, a sprinkle of pollen upon its black head,
telling of its diet of Megasperma flowers…
Frolicking this way will bring the sheen
of fruit, the birth of seed, beauty ever after beauty,
abiding with us fearlessly
as if we had always been there.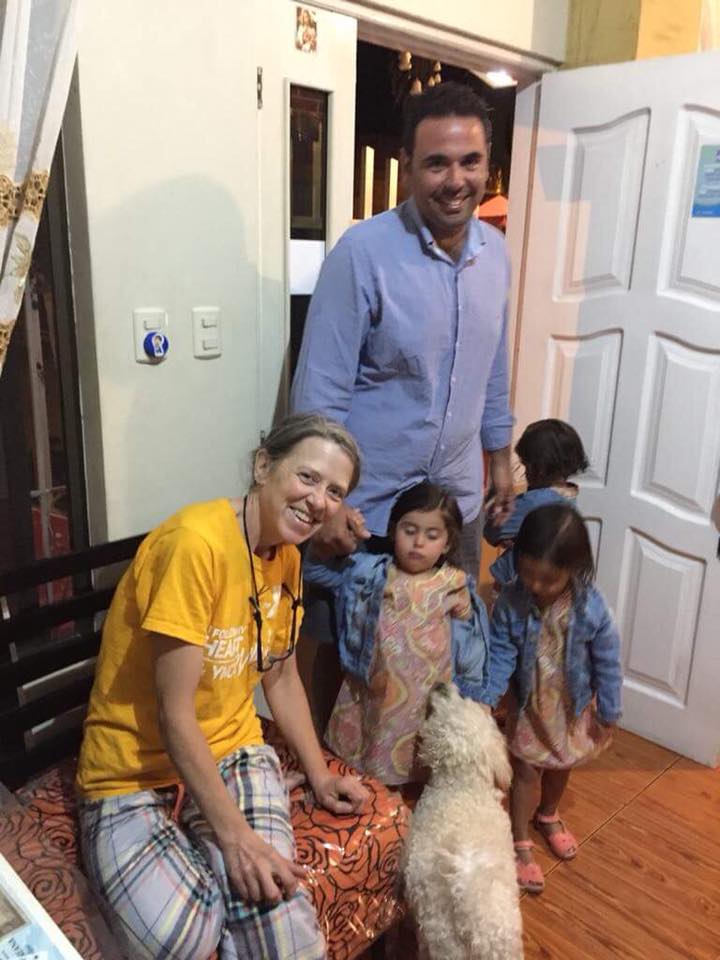 3.- Any tips for future volunteers, give as many details as possible…
Clothing: ABV packing list was great. Be ready for change, sudden clouds, chill, and drizzle. Cover your head and dress in layers. Be modest in Ecuador as its people are.
Donations: Do not give items made in China. Give items that show your home or town.
Weather: It changes a lot, depending on altitude…Sun is close by in Quito. Protect your skin. Carry water with you.
4.- Other things volunteers should know, about what to bring, what to do in the country, what to eat, transportation, other
a.- ABV packing list was great: charger and water filter system was not needed by me but were essential for others I met. I used a suitcase lock to secure my valuables.
b.- Eat as many fruits and vegetables as you can. The Ecuadorean diet is healthy. Enjoy fava beans, a variety of soups, tropical fruits and juices, yucca, corn on the cob, empanadas and fresh made rolls. Expect fewer leafy greens.
c.- Legitimate cabs in Quito have 4 digit numbers on front window and door. Be careful on bus and trolley and at night. I walked by day with no problems. I carried very little cash with me in Quito. Try to go accompanied by someone you trust. Do not make friends (in bars, on street) except upon recommendation from those you trust. Hide your valuables (phone, cameras, wallet) from sight.
d.- Ask host about best safety measures to take. Carry toilet paper with you.
5- Personal Paragraph (ABV Program Testimonial):
I am very enriched by my experience. The two home stays and 3 volunteer sites opened up Ecuadorean culture in a diverse, and intriguing way. In Quito, the daycare workers showed so much skill and kindness to underprivileged kids. At the school, I loved seeing Galápagos kids involved in planting food and using outdoor space to teach muralism and the second use of plastic bottles and tires to make garbage cans and planters, etc…
With the Ministry of Agriculture, it was fascinating to witness the diversity of farms, the income differences, life for rural peoples without cars and tragic lack of garbage services. I loved being the only white person for 90% of my stay. So fascinating, so good for my Spanish. Thank you. I wish I had stayed longer.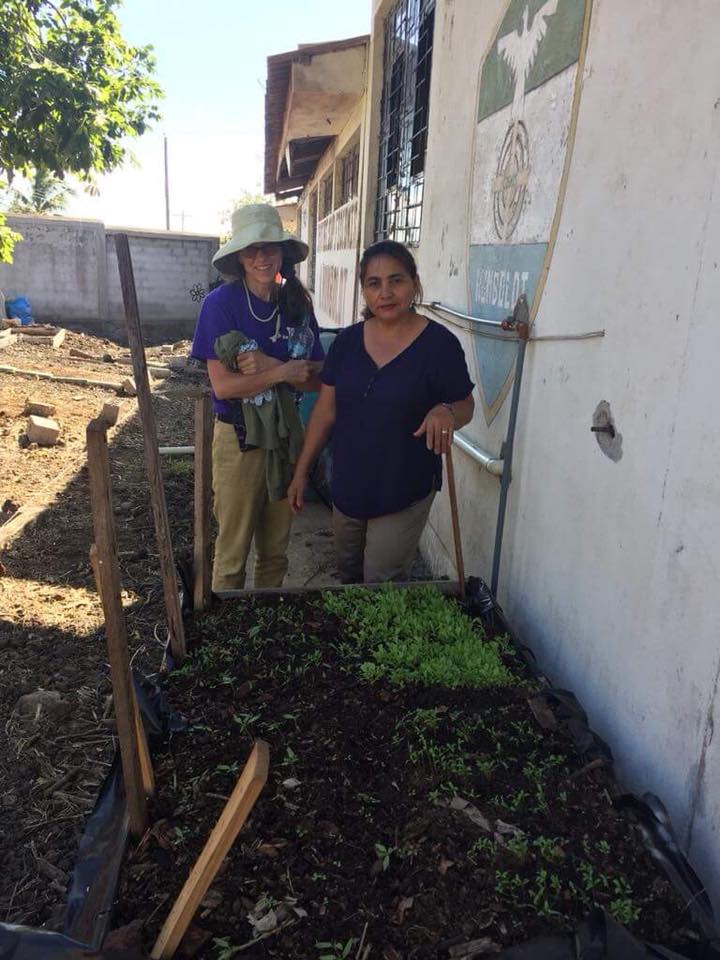 6- How would you describe your accommodation, meals, and security in detail:
Quito with Laura, the coordinator. Excellent, diverse meals. Nearly private bathroom, nice bedroom, security. Guard outside the building. Did not feel safe going out alone at night, remember curfew at the home at 10 pm max.
San Cristóbal at Dory's home: Decent meals, shared bathroom, lovely bedroom, access to the roof with hammock and swinging chairs, views. Close to the boardwalk and beaches. Felt very safe day and night, even alone.
7- What was your favorite memory of this trip?
Program: I loved all 3 volunteer experiences and appreciated their variety. I love volunteering for four or five hours, then enjoying time to reflect and explore on my own or with my friendly hosts.
Country: The birds and reptiles and sea urchin fossil beaches of San Cristóbal
In Quito, Tour with Laura to Historia Center of Quito and Ciclovia Bike Ride. On the island, Las Tijeratas boardwalk and hike, visit Punta Carola and El Junco
8.- How was the ABV USA support prior to traveling, who helped you?
Sarah Ehlers…excellent support. Had to complete trip a year after the original date. This proved to be no problem. ABV kept track of itineraries and changes. Sarah answered my emails expediently with accurate suggestions and information.
9 – Are you willing to speak to other potential ABV volunteers?
Yes
10 – Can you be specific how did you find or know about A Broader View?
Volunteer travel