Cusco Peru Review, This really started with me randomly asking my best friend, "Hey, one of these days we should go to South America somewhere." However, we did a lot more than just go to South America – we lived with and amongst locals, experienced the customs, had the chance to explore the places you'd get to go only once in a lifetime, and spent our days helping the very people we were around with fulfilling meaningful work.
Cusco Peru Review Volunteer
1.- What was a daily schedule at the program, hours volunteered?
Start work at the clinic at 8:30am

Physical therapy/triage/sensory stimulation, depending on daily need. Since the hospital had a special focus on children with neurological issues, our time was best spent working in physical therapy

Then helping feed the children for lunch, return home for lunch ~12:30pm
After lunch & siesta, return to the clinic at 2:30pm
and feeding the children for dinner, return home for dinner or go out to a restaurant at ~5:30pm
Total hours per day: 7
Total hours: 56 (Lost two days due to one trip and the Peruvian Independence Day)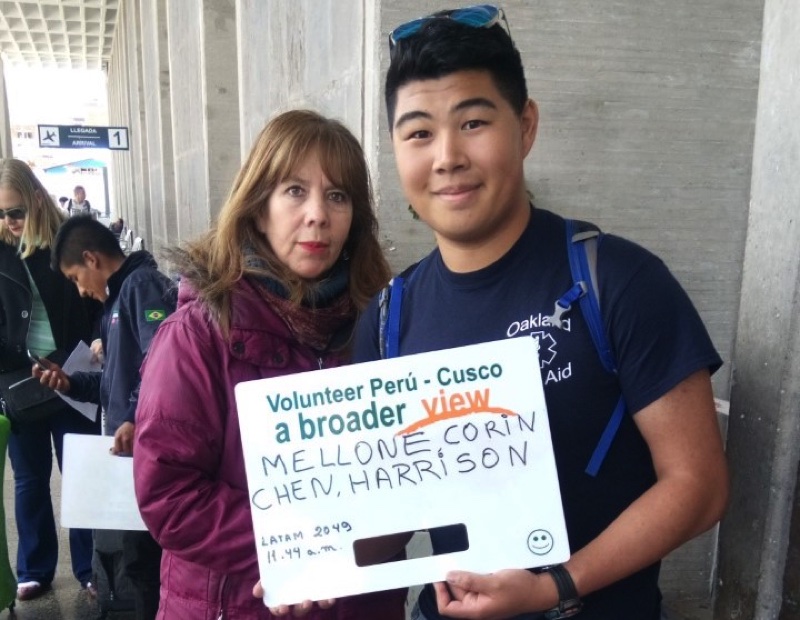 2.- What was the most surprising thing you experienced?

Host Family: Just how enthusiastic and welcoming Maria Elena was. We were almost seven hours delayed on our flight into Cusco, and my friend and I were sure whoever was waiting for us would have left or would be incredibly angry. Instead, Maria was happy to see us and took us on a city tour so we knew all the best places to eat, change money, and do laundry.
She has been an amazing host, and our "Peruvian Mom" due to how much care she put towards our living accommodations, delicious food every day, and just making us feel less like outsiders and more like family.
Program: I did not expect to have as amazing of an experience that I did working in the hospital. Prior to coming, I was not sure if I could be useful, but the hospital staff was incredibly patient and showed my friend and me how we could help the most.
We volunteered in the physical therapy ward for most of our time there, as we could work with the children we had formed close bonds with and really help them on their journey through physical therapy. The staff went above and beyond as well, with one of the physical therapists even taking time out of his day to teach my friend Spanish, as he didn't know a word of the language when we arrived.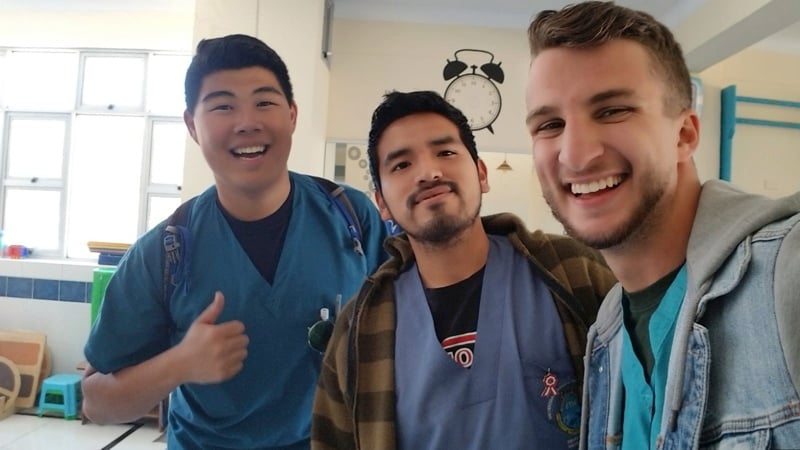 Country: Before I arrived in Peru, I thought the most we would be able to explore on this trip was to visit Machu Picchu. Thanks to Maria, she showed us an amazing tour company that helped organize other tours in the little free time we had, which allowed us to visit the Last Inca Bridge, take a city tour and tour of Inca ruins, trek Rainbow Mountain, explore ancient Inca salt fields, and of course, visit Machu Picchu.
On one of our last days, we took the hospital children to the Peruvian Independence Day Parade, which was incredible as we had special front-row placement. I was happily surprised by the amount of culture and locations we could experience in Peru.
3.- What was the most challenging thing you experienced?

Host Family: There was construction on our street during our stay, which resulted in the street being constantly muddy. But to be honest, that was effectively a non-issue, as all it did was just make our shoes a little dirtier. Given that was the most challenging experience of the host family, it's safe to say that we had the best time anyone could have here.
Program: While volunteering in the hospital, most patients and staff spoke only Spanish. While at times there was a language barrier, on the whole, it was an excellent way for me to practice my language skills in an immersive environment.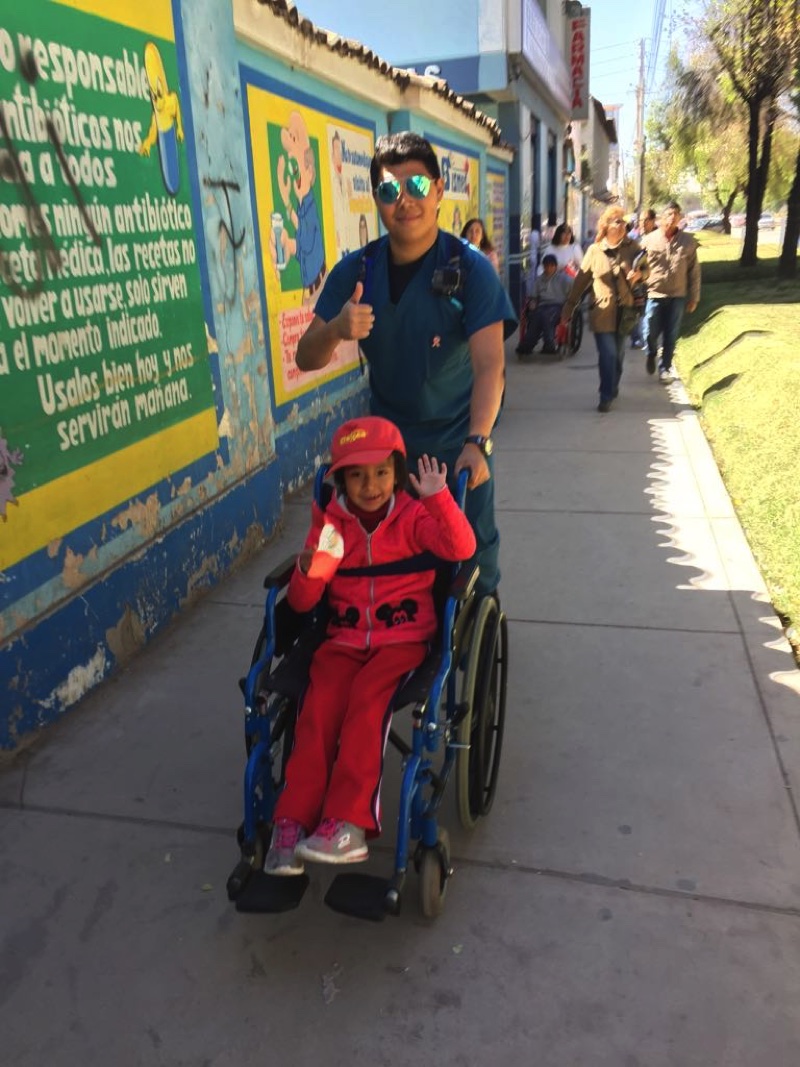 Country: Because of the altitude in Cusco, when we tried to do challenging/strenuous things, such as walking or hiking, we'd find ourselves out of breath fairly quickly. This gets a lot easier after a few days, so I'd recommend staying away from treks like Rainbow Mountain until your body has had time to adjust.
4.- Any tips for future volunteers… (clothing, travel, personal items, donations, money, internet)

If you are coming in the winter, be sure to bring warm clothes. While the days are still very warm (from a New Jerseyan perspective), the temperature swings are unlike anything I've ever experienced before. In the early morning, sometimes you'll wake up and be freezing, but by midday reduce to just a t-shirt and shorts.
I'd recommend bringing a debit card, as if you are staying for an extended period of time (and doing tours) there's a high chance you won't want to carry a lot of cash with you. In Cusco, there is no shortage of ATMs and currency exchanges, so don't worry about a lack of availability to use the card.
5.- Other things volunteers should know before coming here (besides Spanish):

Host Family: Maria is incredibly helpful and knowledgeable about all of Cusco, so if you have any questions, ask her. We've asked her for restaurant recommendations and they've always been fantastic, and she won't hesitate to help you arrange a tour of anything you could imagine around Cusco.
Program: You'll be working with children who live in the hospital, ranging from mild to severe neurological conditions. Don't let that put you off; they're the sweetest, most amazing, strongest kids I've ever met. And it doesn't take a degree in medicine to bond with them and be their friend, which was one of the most fulfilling experiences of my time here.
While you're volunteering, you just might meet some of the most amazing, coolest people in the world volunteering alongside you; we certainly did during our time here.
Country: In Cusco, while the official currency is sol, most restaurants/malls/shops will accept American dollars or cards. Because of this, just keep in mind that it may not be advantageous to convert all your money into sol right away.
We found that a balance between dollars and sol in our wallets was easier, as it resulted in us having to carry less cash (we could use sol for more inexpensive purchases, and because of the exchange rate have dollars for more expensive ones) and thus have more flexibility in payments.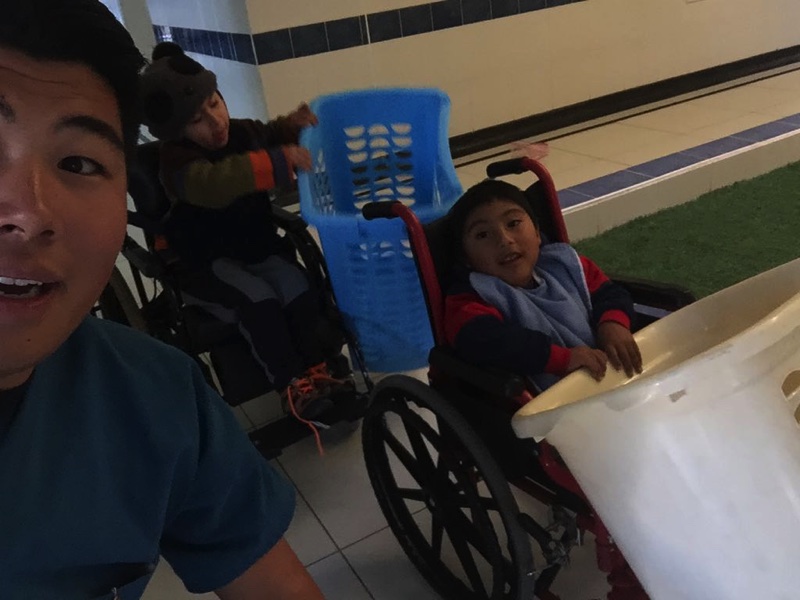 Shadow Doctors Abroad
6.- Personal Paragraph about the experience (ABV Program Testimonial):

This really started with me randomly asking my best friend, "Hey, one of these days we should go to South America somewhere." However, we did a lot more than just go to South America – we lived with and amongst locals, experienced the customs, had the chance to explore the places you'd get to go only once in a lifetime, and spent our days helping the very people we were around with fulfilling meaningful work.
The breadth of our experience here was really thanks to the outstanding programs ABV offers, specifically the volunteer medical work at Clinica San Juan de Dias in Cusco, Peru. From our first experience with Maria Elena, we were treated like family, with her being our "Peruvian Mom" – showing us the best places to eat, shop, and (maybe most importantly) do laundry. Her incredible care and compassion of us really made our experience so much better, and her dedication to ensuring that we were able to go on the best tours around Cusco meant that we were not only able to go to Machu Picchu, but cross a ravine on the Last Inca Bridge, explore Inca ruins, conquer a mountain the same altitude as the base camp of Mount Everest, and ride ATVs to ancient Inca salt mines.
However, while these trips were phenomenal, what really made our time here so much more impactful than just a vacation was that we had the chance to volunteer in a local hospital which specializes in caring for and helping children with neurological problems. The progress we witnessed after working with these children, and the close bonds we formed with them, has absolutely given me a new perspective (or should I say a broader view?) on my own life; I'll never forget those amazing, strong, and sweet kids.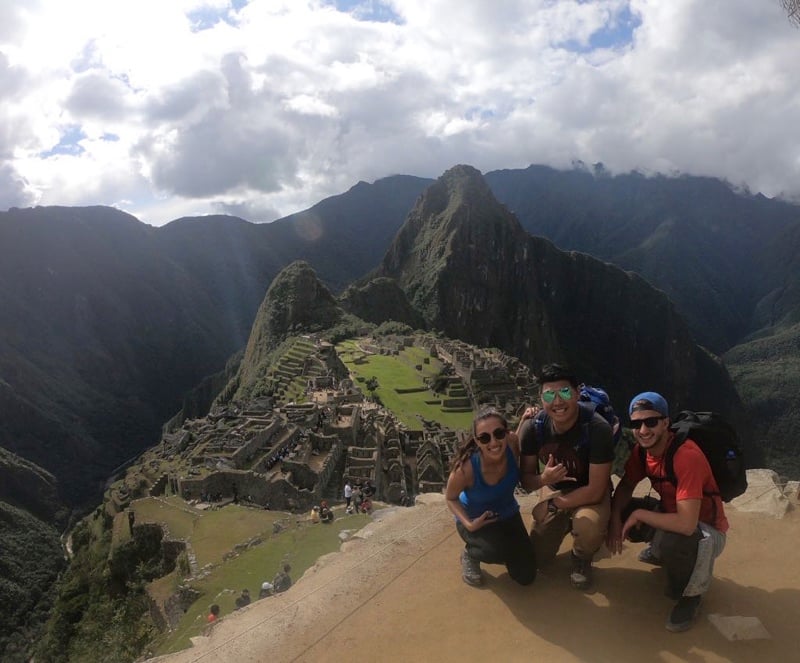 7.- How would you describe your accommodation: meals, security, friendliness, quality others:

Meals: Phenomenal. Delicious every day, filling, and Maria always cooked us something new to try; super helpful in helping us gain a sense of Peruvian cuisine.
Security: The house has two locks, on an external gate and an internal door, is fenced all around and is a safe neighborhood right near one of the main roads which lead to the hospital. I felt incredibly safe during my time here.
Friendliness: Maria is incredibly friendly, so much so that we've come to call her our "Peruvian Mom," because she treats us like one of her family. She's been so helpful with any of our needs, no matter how trivial they might seem.
Quality: The quality of the accommodations was fantastic. I was initially worried that I wouldn't have any contact with my family back home due to a lack of internet, but Maria has WiFi in her home, so I can talk to them and keep them worry-free. The bathroom and bedroom were spotless when we arrived, with hot water in the shower, so we didn't feel like we were really lacking anything important in the house.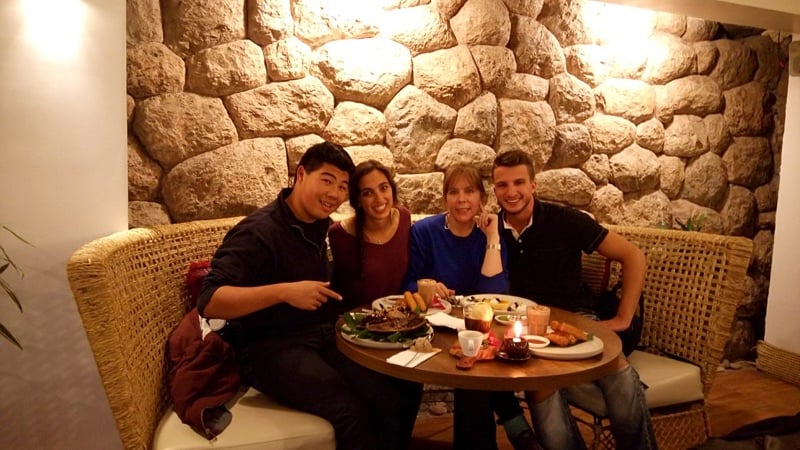 Gap Year in Peru
7.1.- Score the following from 1 to 10:
Quality of meals: _10__ if under 5, what was the issue:
Quantity of each meal: _10__ if under 5, what was the issue:
How clean was the house: _10__ if under 5, what was the issue:
How safe was the house: __10_ if under 5, what was the issue:
8.- How were the local ABV Coordinator/staff and the support provided in-country: Airport, orientation, introduction to the program, schedule of the program, friendliness, solving problems?
I feel as I've answered this question with many of the previous ones, but Maria was our ABV connection/support in-country. She was outstanding, from meeting us at the airport, to giving us an orientation of the important points in the city, to texting/coordinating with the hospital director to ensure we had all the information we needed.
She also helped us come up with the ideal schedule for our day, and is someone we can always talk to about anything, whether it be about work or about the city. She's incredibly friendly and has worked so incredibly hard to make sure we had the best experience possible, and we can't thank her enough.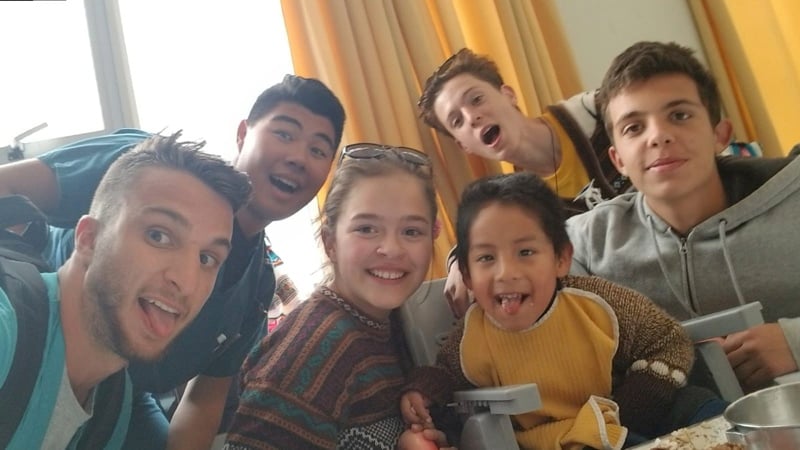 9.- What was a daily schedule at the program, hours volunteered, activities you did?
I feel that I answered most of this question in #1, but we volunteered about 7 hours a day for 56 total hours. Scheduling was largely dependent on us feeding the kids, as my friend and I wanted to make sure that they were all fed, which on some days was very quick, and on some days took a while longer.
We worked primarily in physical therapy, helping the children living in the hospital to stretch, refine motor function, and improve current physical abilities.
10.- What was your favorite memory of this trip?:

Accommodation: The meals we had, I can't emphasize this enough, were phenomenal. Maria's cooking was always something we could look forward to coming back from work, and it always succeeded to fill us and keep us going for the rest of the afternoon. I really appreciated her extra effort to make sure every day's lunch was different, as we really did get to taste all the quintessential Peruvian cuisine.
Program: I will never forget the close bonds and friendships we made with the children living in the hospital. From meeting a girl in a wheelchair to working with her in PT every morning, to seeing her get up and push her wheelchair herself, these were memories that will remain with me for a lifetime. The children in the hospital were so sweet and fun to hang out with. It was the hardest thing to say goodbye because we had become so attached to these amazing kids.
Country: The Peruvian countryside, with its steep, seemingly impossible mountains, and its vast, open areas, is one of the most beautiful places I've had the fortune of being in. Our trip to Machu Picchu was one I've wanted to make ever since I first saw the "city in the clouds" in a book when I was a little kid. Needless to say, it was a breathtaking, incredible experience, one that brought chills to my spine when we got there.
11.- How was the ABV USA support prior to traveling? Emails, chat online, calls, volunteer guide:
While I did not extensively use the ABV USA support, what we did receive was more than sufficient to give me an idea of what I should expect, and who we would be working with. I appreciated that they sent me the picture of Maria Elena and a description of our living conditions, as that helped familiarize us even before we left the USA.
The information packet I was emailed was incredibly helpful as well, especially with emphasizing that the most people pay for a taxi in Cusco is 5sol (~$1.50), far less than we would have paid coming from our experiences in New York. Needless to say, that packet saved us a lot of money and provided good insight before we even embarked on the trip.
12.- What do you think about the reservation system online?

I am not entirely sure what the reservation system is, but if it has to do with the plane tickets and reserving a spot on the program, then it was clear and straightforward on what we had to do in order to properly prepare for the trip.
13.- Who did you find Abroaderview website
?
My family and I found the website while we were looking for volunteer abroad programs. Most programs only accepted students in college, or at a minimum age of 18, but ABV was one of the only programs that allowed 17 year-olds to volunteer. That stood out to us, as this was an experience I wanted to have as soon as possible, and ABV was very accommodating in that regard.
14.- Are you willing to speak to other potential ABV volunteers?
Yes, I am willing to speak to other potential ABV volunteers.