Gap Year Peru Cusco Review: From the days that I spent at the hospital helping mentally and physically challenged children to grow stronger, healthier, and feel more loved, to exploring the city of Cusco and the Peruvian countryside, to living and sharing a home with a family
Gap Year Peru Cusco Review
1.- What was a daily schedule at the program, hours volunteered?
The daily schedule to which my friend and I adhered during the medical program was as follows:
Arrive at work between 8:30-45 a.m. and check in with the Director of Physical Therapy;
Work with children and adults in physical, hydro-, and electro-therapy from 8:45 to 10:45 a.m.
Help the nurses manage and feed the Hospital's child residents at lunch from 11 a.m. to 12:30 p.m.
Return to host family for lunch and siesta from 12:45 to 2:15 p.m.
Return to the Hospital at 2:30 p.m. to entertain and help the children.
Assist the Hospital staff in feeding the children at dinner from 4:00 to 5:00 p.m.
Check out at the Hospital and return to host family at 5:15 p.m.
Total hours –per day: Roughly 7; -in total: 56.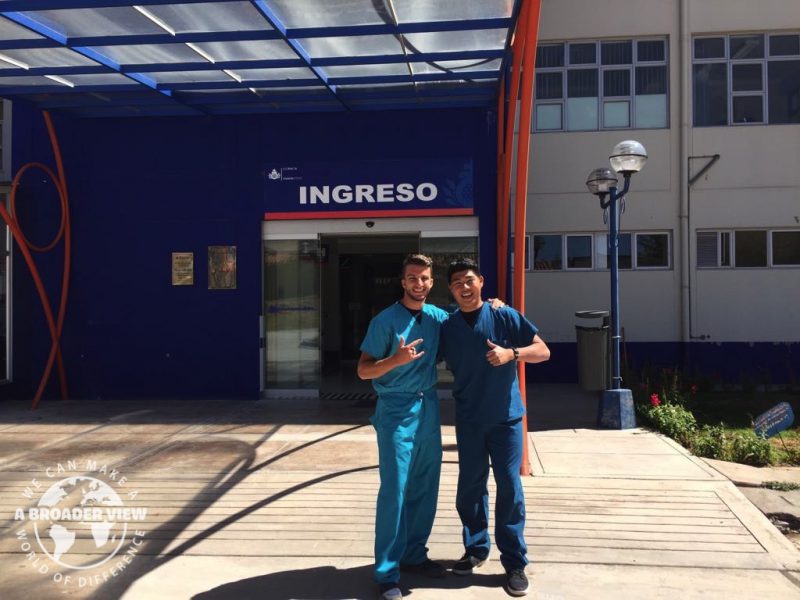 2.- What was the most surprising thing you experienced?

Host Family: The most surprising thing I experienced during my stay with my friend and I's hostess, Maria Elena, was how compassionate and genuinely excited to host us she was during our trip. From the first moment she picked us up at the airport after we arrived several hours late- and expecting a tremendous scolding – with a only gracious smile, she never lost her enthusiasm for our program over the course of the two weeks we stayed with her, and she went well out of her way to ensure that we would be able to tour the country and its landmarks as soon and efficiently as possible.
Although her children did not live at home with us, they were just as welcoming and excited to see us as their mother whenever they visited, despite being several years older than ourselves.
Program: The greatest surprise of our medical program in Cusco was by far how open and relaxed the daily work was at the hospital. Instead of the no-nonsense staff, rigorous procedures, and strict schedule my friend and I expected, we were instead greeted by a cheerful and patient staff who allowed us to decide where we wanted to work in the hospital, in addition to choosing the amount of time we spent doing each of these jobs.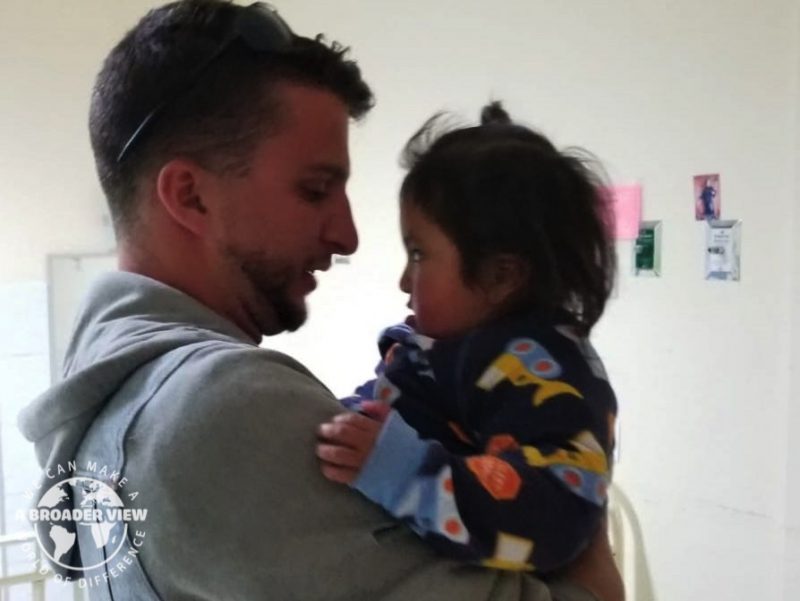 Thanks to this leniency and trust in our abilities, we were able to dedicate significant amounts of time to assisting the Hospital's handicapped child residents, whom we grew to know, love, and enjoy helping whole-heartedly.
Country: The most surprising aspect of the country of Peru itself was, in my opinion, how hospitable and helpful the vast majority of its residents were to my friend and me during our stay. When I first arrived, I was terrified by the prospect that my horrific Spanish would prevent me from effectively communicating with the Peruvians and thereby ruin my experiences outside of the Hospital; but the residents of Cusco and the Peruvian countryside greeted my awful efforts with good humor and incredible patience, finding ways to communicate with me so that they might help me as effectively as possible.
Most everybody greeted us with smiles and Hola's, and every person we interacted with personally, from Hospital staff to tour guides to waiters to vendors, were incredibly cheerful and friendly.
Volunteer in Peru
3.- What was the most challenging thing you experienced?

Host Family: The absolute most challenging thing I experienced with my host family was an endless struggle to figure out how to properly unlock the front door every day to make it to the Hospital on time. Save this most minute of details, and being completely honest, I experienced absolutely no challenges during my time with Maria and her family; they were nothing but understanding and thoughtful, helping me with my terrible Spanish abilities and taking every opportunity to ensure that my friend and I were comfortable and secure at the house.
Program: The most challenging aspect of my work as a volunteer at the Hospital was by far learning to communicate with both adults who did not understand my native language and children who were severely handicapped and thus unable to understand even rudimentary commands and questions.
Overcoming these obstacles required patience from myself, the hospital staff – who helped me to learn phrases and questions in Spanish as often as they could – and the adult patients with whom I worked as we slowly developed means of working around our language barrier; the children, in contrast, required visual, rather than verbal, communication due to their lack of understanding of or inability to use verbal expression.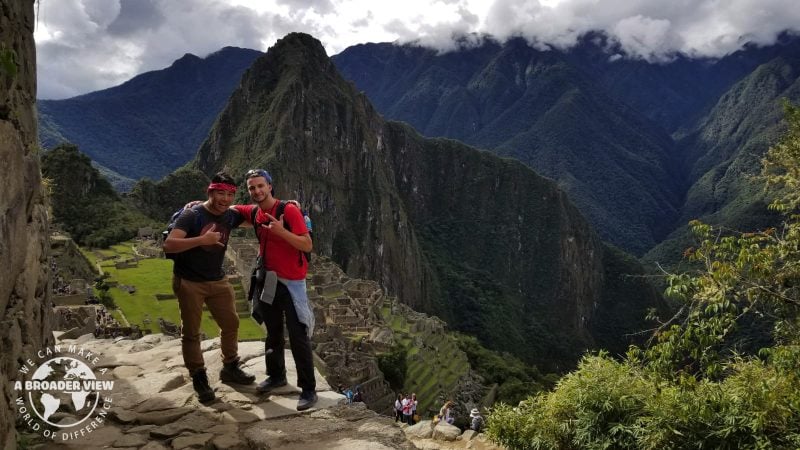 Country: The greatest challenge I faced in Peru itself was the tremendous change in altitude; being from New Jersey, which stands at a mere 120 meters above sea level, my friend and I found ourselves struggling to adjust to the far thinner air of Cusco, which is about 4,000 meters above sea level.
Even the simplest of exercises such as running or hiking required tremendous exertion from us both and our trip to Rainbow Mountain towards the end of our program found us nearly hyperventilating to cope with the extremely low oxygen levels, to which our bodies were unaccustomed.
4.- Any tips for future volunteers… (clothing, travel, personal items, donations, money, internet)

First and foremost, I cannot stress enough that no amount of challenges such as the ones above should deter anyone from volunteering; our experience at the clinic and in Peru itself was beyond words. That being said, I highly recommend that future volunteers – especially those volunteering during Peru's Winter season – bring various layers of clothing; the daily temperature changes range from frigid in the morning to very hot in the afternoon, and having options for each temperature will save volunteers from the misery of wearing a winter jacket in 70 degrees weather.
In addition, driving in Peru is rather chaotic, so I advise that future volunteers make frequent use of taxis to get around instead of renting a car; however, I do NOT advise taking personal mementos or valuable items, as they are not worth having around only to possibly be lost or stolen in tourist-heavy areas. The only personal item I brought on the trip, besides necessities, was a plastic pair of Rosaries. Regarding internet: it is a matter of your host family's needs if you will have access to the internet; although I was fortunate enough that our hostess did have WiFi, I do not advise anticipating having such access, and recommend investing in an overseas plan from your service provider if you desire or need to make phone calls.
Finally: have a GOOD ATTITUDE! Your trip, no matter where you are situated, will be one of the greatest experiences of your life so long as you are flexible.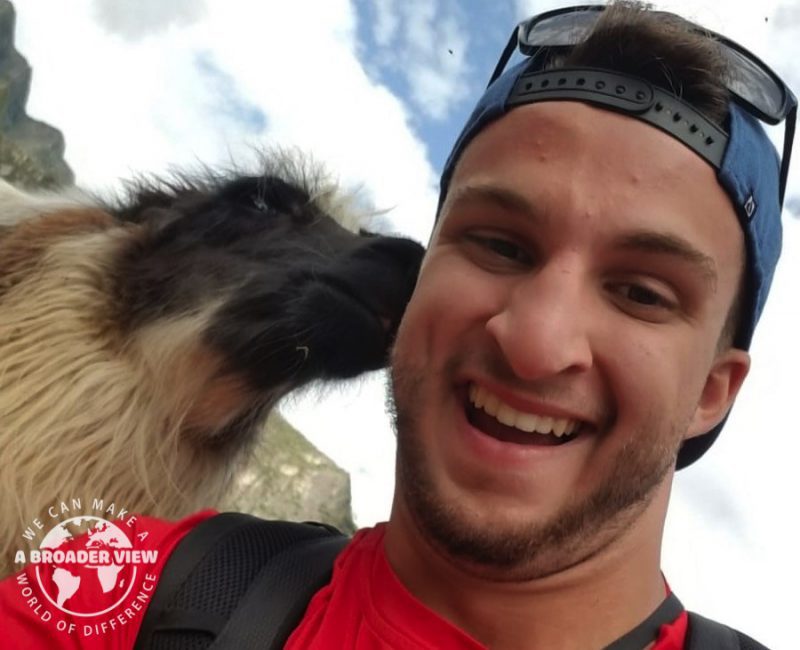 5.- Other things volunteers should know before coming here (besides Spanish):
 
LEARN SPANISH. While this is surely obvious, I was one of the brash few who decided he could probably get by without learning any Spanish, and subsequently suffered in various embarrassing ways.
Host Family: Do not expect ANYTHING from your host family when you arrive, be it a cozy bed or a hot shower or frequent, filling meals. Living conditions and lifestyles in Peru are incomparable to those in the States, and while most host families seem to live in modern homes, it is only to your detriment to expect such facilities as those in your own household, as some families might not be able to afford such niceties.
I reiterate: be flexible! Remember that they are opening their hearts to you to be willing to support your trip and house you and that their efforts and accommodations should be treated only with the utmost respect and graciousness.
Program: While the program needs differ greatly depending on the work selected by the volunteer, I believe it is standard across the board that your program will not be what you expected; Peru is a very easy-going country, and so are its inhabitants.
Therefore, expect to have large amounts of freedom with your schedules, and be prepared to reach out and offer to help in any way that you can; if my friend and I had done neither of these things, we would not have had a fraction of the amazing experience that we were ultimately able to enjoy.
Finally, be charitable and kind even to people who are hard to deal with; one of the children in our care was rather devious, and sometimes went out of her way to disobey or attempt to humiliate us.
In such a situation, remember that you are volunteering to change someone's life for the better and that not even the harshest of treatment should deter you from that objective of unselfish service to people who are most likely far less fortunate than yourself.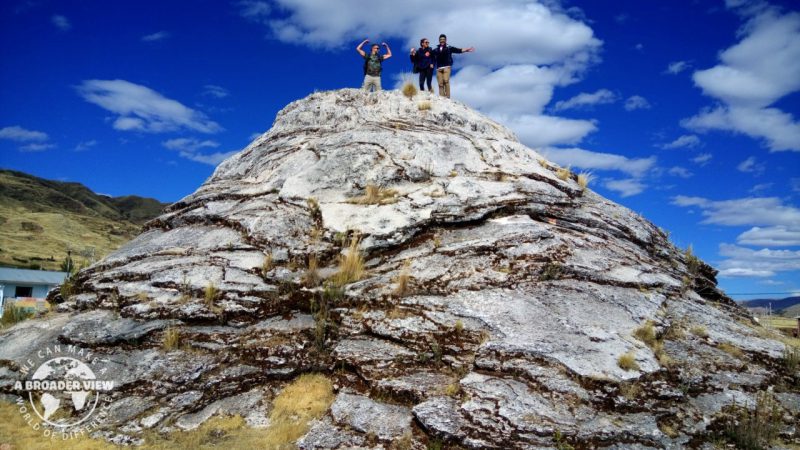 Country: After two weeks in Peru, I am still unable to give specific recommendations as to what one should expect in the country, as it is so vastly different from our own. However, I can advise volunteers on what to AVOID: firstly, any man who approaches you in a city – i.e. Cusco- with a portfolio of artwork is merely trying to peddle cheap and shoddy artwork under the guise of being an "artist;" we encountered no fewer than five of these men at one time during our trip, and while it may seem cruel, sometimes it is best to simply ignore their advances, as they will otherwise refuse to leave until you agree to consider a purchase.
Likewise, do not trust or accept any free coupons from "Massage Spa" representatives on the street; in our time in Peru, I found exactly three legitimate spas, whereas I encountered at least thirty unique "salespeople"- DO NOT TRUST THESE OFFERS.
Finally, any restaurant that offers a "tourist menu" with more than fifteen items listed is nothing more than a glorified bacteria breeding ground that will punish your body in unholy ways. At one such restaurant, my friend and I ordered two completely different kinds of meat and received the exact same meal, and my stomach subsequently suffered in ways I refuse to describe.
Only eat at trusted, professional establishments. Finally, only purchase street-side goods and food if they come in a sealed package, as they otherwise might be contaminated.
Go Overseas and Volunteer
6.- Personal Paragraph about the experience Gap Year Peru (ABV Program Testimonial):

The scenario by which I was introduced to A Broader View and the trip that would ultimately change my life played out as follows:
My friend: "Hey, Corin, I was thinking, and feel free to say no: would you be willing to go down to Peru with me for two weeks to do medical work? It was just an idea I had."
Me: "Um, sure! Why not."
… and thus did I find myself, hardly a month later, sleeping in a Peruvian bed in the house of a family I had known for exactly thirty minutes.
My experience as a Pre medical volunteer in Peru was beyond the power of words to describe; it changed my life, and my outlook on life, permanently. From the days that I spent at the hospital helping mentally and physically challenged children to grow stronger, healthier, and feel more loved, to exploring the city of Cusco and the Peruvian countryside, to living and sharing a home with a family that was willing to open its doors to me and my best friend, the experience brought new memories, awesome moments, and learning opportunities that I could never have even hoped for before.
To try to describe my trip in mere words is an exercise in futility. I can only say that I have been truly privileged to have been a part of this program, and will never forget Maria Elana, our hostess; Emily, our fellow volunteer who became a sister to us; Jhoselin, the two year old hospital patient who I fed, cared for, and grew to love each day at the clinic.
The Stafford family, medical volunteers from Texas with whom we grew incredibly close; Enrique, the physical therapist who took me under his wing and guided me through work at the clinic; Maximus, our host family's trusty, faithful terrier; and so many other people who helped my friend and I on our journey through life in the hospital, Cusco, and Peru.
7.- How would you describe your accommodation: meals, security, friendliness, quality others:

Meals: Nothing short of phenomenal; at home, Maria was a phenomenal cook who guaranteed that we were able to try new foods at every single meal and made sure that we were able to eat and enjoy every ingredient she used before cooking for us.
Security: It was always securely locked at night, fenced in on the outside, and located on a safe and quiet street. Suffice to say that I slept like a baby every single night of my stay.
Friendliness: Maria is nothing short of a second mother to my friend and me; she and her family treated us with compassion and enthusiasm, acting as though we were one of their own instead of complete strangers from another nation.
Quality: The house was well kept, the beds, kitchen, and bathrooms were spotless, the furniture was in fantastic condition, and the showers had hot water; overall, the living accommodation was pristine.
7.1.- Score the following from 1 to 10:
Quality of meals: _10_ if under 5, what was the issue: n/a
Quantity of each meal: _10_ if under 5, what was the issue: n/a
How clean was the house: _10_ if under 5, what was the issue: n/a
How safe was the house: _10_if under 5, what was the issue: n/a
8.- How were the local ABV Coordinator/staff and the support provided in-country: Airport, orientation, introduction to the program, schedule of the program, friendliness, solving problems?
Our local ABV Coordinator was none other than our hostess, Maria Elana; and while I believe I have almost exhausted my vocabulary of compliments, she treated us with respect and love from the moment she picked us up at the airport to when she dropped us back off in that same place 14 days later. Elena ensured that our tours were thoroughly planned, affordable, and ran on schedule, guaranteed that we knew exactly what we were doing at our program and when we needed to be there, and effectively handled what few problems we had with time management and touring during our stay.
9.- What was your favorite memory of this trip?:

Volunteer Accommodation: the absolute favorite memory of my host family were the nights we spent staying up late planning for the next day; while this may seem insignificant in and of itself, the chemistry between my friend and I, Maria, and Emily made every conversation hilarious and profound, and I looked forward to those little moments of downtime, planning, and genuine bonding more than anything else at the house.
Program: By far the greatest, and most emotional, an experience I had at the clinic was saying my final farewell to Jhoselin, a two year old resident of the hospital who suffered from developmental retardation. Over the two weeks, I worked at the clinic, Jhoselin and I grew incredibly close, and saying goodbye after 14 days of watching her grow, learn, and develop proved to be the most emotional, powerful, and impressive experience of not just my work at the clinic, but my entire stay in Peru.
Country: My favorite memory from the time spent outside of the clinic and my host family was by far visiting Machu Picchu with my two friends. Besides being breath-taking in its beauty, the ruins provided a great opportunity for us to bond and have fun with one another, and the experiences we had on the mountaintop established themselves as the foundations of my greatest memory of the Peruvian countryside.
11.- How was the ABV USA support prior to traveling Gap Year Peru? Emails, chat online, calls, volunteer guide:
ABV USA was incredibly helpful, sending me plenty of information packets and reminders to book flights, helping me secure a volunteer insurance card, and emailing me a comprehensive packet to ensure I knew exactly what I needed to have prepared for my trip.
12.- What do you think about the reservation system online?

Put succinctly: it was an excellent system that allowed me to register in under two hours while still remaining comprehensive and loaded with necessary information.
13.- How did you find the A Broader View website?
Through my recommendation of my best friend, Harrison Chen, who introduced me to the ABV program.
14.- Are you willing to speak to other potential ABV volunteers?
While I will be extremely busy this coming year, I would love to make time to help another volunteer have the same incredible experience at any point I can