Volunteer Chile, My host family was extremely welcoming and made me feel at home. I went on a trip with them to a national park on Easter and my host mom Silvia took me places around the city. Her kids introduced me to their friends as well.
Volunteer Chile La Serena Orphanage
1.- Why did you choose to volunteer in Chile La Serena, what program(s) are you doing and why?
Why Chile: I wanted to work on my Spanish speaking skills, so I decided to volunteer in a Latin American country. I chose Chile because of the volunteer program it had.
What program: I volunteered for 8 weeks in an Orphanage/ Children's home
Why this program: I love children and wanted to work with them.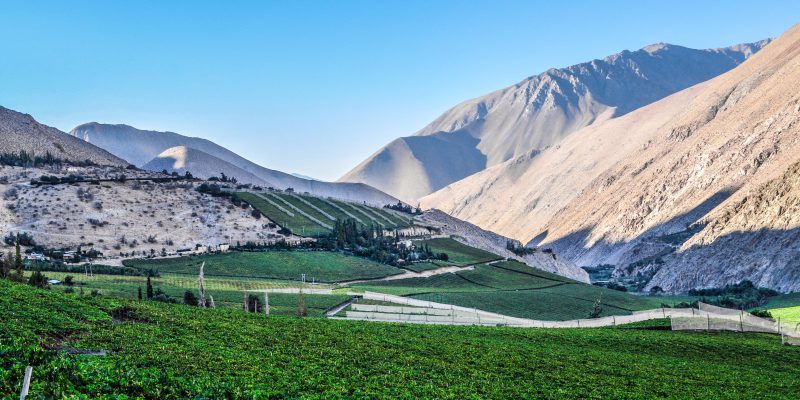 2. What was the most surprising thing you experienced while in the program?
Program: Taking care of kids is pretty similar in Chile as it is in the US. From what I've seen there aren't any wildly different practices.
Host Family: My host mom Silvia was very accommodating of my diet (I'm a vegetarian) and always cooked breakfast for me. I'll miss that back in the States.
Country: Chile is fairly modern, it's a lot like the United States. There's McDonald's, Domino's Pizza, Nike and even Walmart. Most people have smartphones, too. One thing to look out for is that you should never flush toilet paper, always throw it away (and have hand sanitizer at all times, because you never know when you'll need it). Sometimes it felt like I hadn't left home.
3. What was the most difficult thing you experienced while in the program?
Program: Understanding what people were telling me to do could be difficult at times.
Host Family: I didn't feel too comfortable when relatives or friends were visiting, so I would hide in my room sometimes, but if you're very social and know good Spanish, you'll do fine.
Country: It takes some getting used to, but in Chile, people greet you by touching cheeks and making a kissing sound (some people go for a kiss). The exception is if two males meet, then they shake hands. It definitely felt like my space was being invaded at first, but then I learned to like it.
4. Any tips for future volunteers….
Clothing: If you're visiting in Spring/ Fall, bring both pants and shorts. I was in Chile from the beginning of March to the end of April. In March, I was wearing shorts/ Capris and a T-shirt and would be fine, April, I needed pants and jacket. Chileans dress more conservatively than Americans, so leave short shorts and low cut shirts at home.
Sightseeing: Plan to do something most weekends. I spent about every other weekend not doing anything because I thought I had more time, and then 8 weeks passed and I wished I had traveled more. I recommend visiting Isla Damas, Pisco Elqui, and Valparaíso. If you can visit the desert or south of Chile, do it. The geography is very different!
Hostels are a great way to save money and meet new people when traveling around.
Donations: The orphanage I worked in got a lot of clothing donations, so don't worry about that. Diapers, clorox wipes, lotion, toys, and school supplies are all good things to bring. If anything, monetary donations work best, because they can buy what they need.
Laundry/internet: Data plans are relatively cheap in Chile, so if you're planning on traveling on the weekends, I would get a SIM card while in Chile. Bring powdered detergent so you can do laundry while staying in hostels.
Gap Year Chile
5. Other things volunteers should know about:
a.- City/town: La Serena has some sights to see, like the Japanese Garden and Archaeological Museum. Public transportation is cheap, so take advantage of it and go places. There are a lot of churches (including a Mormon temple and mosque) if you're religious, but if you're not, you'll have no issues here.
b.- Weather:  Look up information on the climate of La Serena. Depending on what time of the year, weather conditions will be very different. They don't get snow here, so it won't get too cold. I was here in Autumn, brought a rain jacket and didn't use it a single day. Winter may be a different story.
c.- Local People: There will be people who speak English, so if you get lost there's bound to be at least one person who can help you if you don't speak Spanish, but knowing Spanish will help tremendously. If visiting a larger city, watch out for people who will come up to you asking for money, it can be scary/ overwhelming if you aren't expecting it.
d.- Tours: The Isla Damas tours are good, but only in Spanish unless you go with a private company. Check what time of the year the penguins can be found at the island before visiting.
In Valparaíso and Santiago, a company called Tours4Tips does, you guessed it, tours for tips. The tours are really good and you can learn insider information about the city.
6. Personal Paragraph (volunteer program testimonial), detail as possible:
This was my first time out of the country. From where my host family lived, it was a half hour walk and half hour bus ride to and from the orphanage, which I used the time to listen to audiobooks. The workers at the orphanage were very nice to me and always asked about my weekend. I loved working with the babies. I wish I had spent time trying to make friends or doing more things in the evenings.
7. How would you describe your:
Accommodation: There were two bed in my room and a TV. I didn't watch much, but it was nice having it there. The house was your average middle class home and had a good wifi connection.
Meals (favorite): I ate so many vegetables while in Chile, my body is very happy about that. I loved sopapilla pasada, an amazing dessert that's found in Northern Chile. Tomatoes and cheese cooked in the microwave oven. It sounds simple, but is amazingly delicious.
Security: if you're worried about securing your stuff you can bring locks and a money belt- both things I recommend anyway for when staying in hostels or walking around big cities. I always felt safe, although I wasn't out at night often.
Host family: My host family was extremely welcoming and made me feel at home. I went on a trip with them to a national park on Easter and my host mom Silvia took me to places around the city. Her kids introduced me to their friends as well.
8. What was your memory of this trip?
Program: The orphanage was definitely not what I expected, the tías were great and everything was very secure.
Host Family I am going to miss my host family when I go home. They were so kind to me and had amazing food! I'm bringing a new found love of vegetables and tea with me.
Country: The architecture of Chile is really pretty and different from where I live. You won't find any red brick houses here. The landscape is also very diverse and sometimes it felt like I was on another planet.
9. How was the local ABV Coordinator, the staff and the support provided in-country? 
Vilma was welcoming and showed me around the city sometimes. She gave me advice and information when I wanted to visit other parts of the region. There's a lot of support if you need it, but they can also be hands off if you're looking to be very independent.
Follow us in Facebook