Volunteer Costa Rica My favorite memory at the orphanage was when it was a child three year old birthday. When we sang for him and brought out the cake his face lit up. Once he received his present, a monster truck that could lift its front wheels in the air, I have never seen him so happy. 
1- How was the local ABV Coordinator/staff and the support provided in-country?
As I first arrived at the airport I was greeted by my driver and brought to my host family. I was confused because I was told that I would be given a full-day orientation and stay one night in a hostel in San Jose. After I arrived at the home I was brought breakfast and then I received a program orientation from my coordinator.
ABV: The program you are describing is the sea turtle program, you went to San Jose, perhaps you are mixing the program guides. In your final volunteer Orientation guide is explained the orientation day in San Jose, always check your ABV account for the guide and check your spam email folder as well.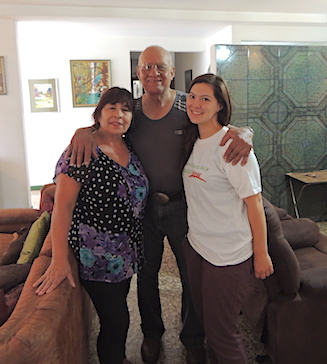 2- What was the most positive surprising thing you experienced while volunteering in Costa Rica?
a.- Program: The most surprising thing I experienced this far was how there are so little staff at the child care program. The children are all happy and upbeat, they are well fed and taken care of. Another surprising aspect is how well they get along with each other, there are fights but five minutes later they are all playing together and happy again.
b.- Host Family: The host family is very welcoming and nice. I was very surprised by how sweet they were to me. They always engage in conversation and are genuine when speaking. The food is also amazing, I was nervous at first to how it was going to taste but now I can't seem to get enough of her cooking.
c.- Country: The country is beautiful. I am most surprised with how easy it is to get around. The bus terminals are easy to follow and people are extremely helpful. I was surprised that there was Uber here and that it is more safe than a taxi.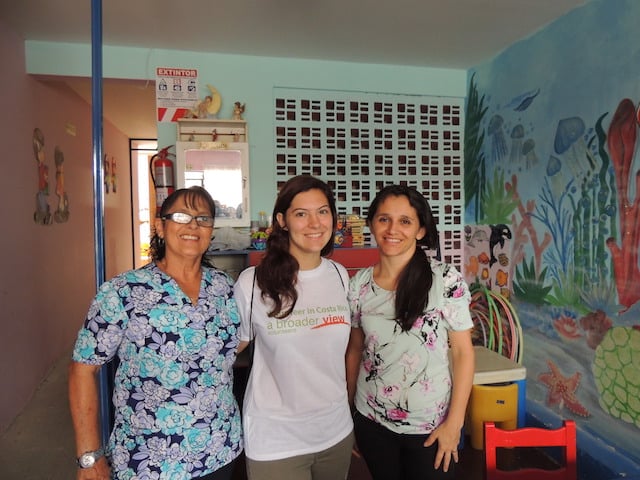 3- What was the most challenging thing you experienced?
a.- Program: The most challenging thing I experienced is the language barrier. I am not fluent in Spanish though I do have basic knowledge and the children and staff speak very quickly making it sometimes hard to understand. I have adapted and have an easier time communicating now.
b.- Host Family: The most challenging thing I experienced with my host family is that there is little to nothing to do close to the home. After I finish the program for the day I am in the house doing the same thing day in and day out because it is to late to go out into the town. The family has been extremely accommodating but it is challenging to find new things to keep yourself entertained. It was also a shock that there was no hot water (only warm water) or air conditioning but I have adapted and it does not bother me anymore.
c.- Country: In Costa Rica the most challenging thing is the prices. Although the transportation to areas and hostel are low in cost that is it. The tours are extremely expensive making it difficult to fully see each destination. There are also similar things to do at every destination making it seem a little bit repetitive.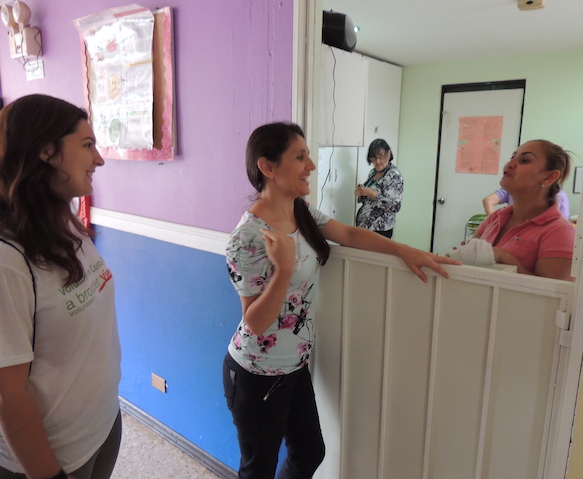 4- Any tips for future volunteers… (clothing, travel, personal items, donations, gift for the host family)
1. Do not forget to pack a few things from your home country that you need, like books to read, a laptop, toiletries (although you can get them from the stores they are expensive) and definitely bring an umbrella
2. Make sure to bring a couple gifts for your host family before coming here like food or trinkets.
3. The atmosphere is completely different than where you live so make sure you have an open mind.
4. Always bring extra money, even if you don't think you'll need it.
5- Other things volunteers should know before coming here:
(thats not in the orientation guide)
a. There is no hot water or air conditioning 
b. There may not be other volunteers at your program or in your home, be prepared to travel alone
c. If you are not fluent in the language, make sure you study up and can hold a conversation
d. Do not have any expectations
ABV: all these tips are in the ABV volunteer guide.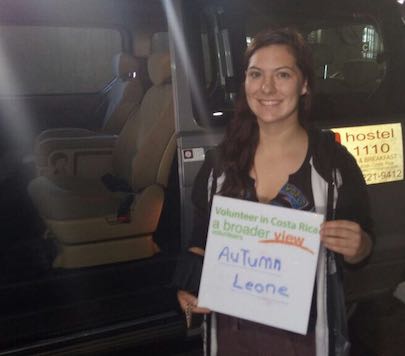 6- How would you describe: your accommodation, what meal did you enjoy the most, security in the house/neighborhood, friendliness, quality others:
At first I was nervous about the security of the neighborhood, there are bared wires on most of the houses and bars on the windows. As I have to walk to my program I was nervous but since Ive actually started doing it I am not worried about my safety. My host family has been great, the meals are amazing the empanadas being my favorite. They also offered to show me around the neighborhood which was nice. I have not interacted with any of the neighbors but I assume they are nice. I do not have any problems or complaints about my host family.
7- What was your favorite memory of this trip?:
a.- Volunteer Program: My favorite memory at the orphanage was when it was a child three year old birthday. When we sang for him and brought out the cake his face lit up. Once he received his present, a monster truck that could lift its front wheels in the air, I have never seen him so happy. It was truly a great experience to see him get so excited and so happy about something. He did not stop playing with his truck for the rest of the day.
b.-Host Family: My favorite memory at the host family was them sitting with me and giving me advice on where to go for my trips and how to do so. They helped me figure out where the bus station was and the time to leave so I would still get my ticket. They are also very flexible on when they give me my meals.
c.-Country: My favorite experience was in La Fortuna. I went with a group of three other girls (who left the following week) and we did a canopy tour and spent the day in the hot springs. I enjoyed the zip-lines and Tarzan swing that was followed by relaxing and hot water.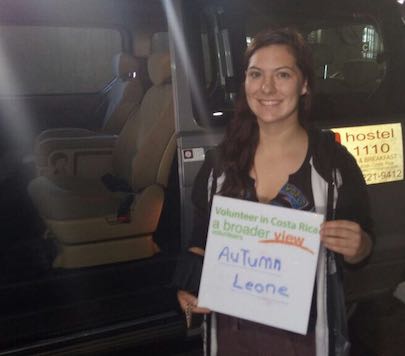 8- How was the ABV USA support prior traveling?
For support I did not receive any. I did not call and they did not call me. I was pretty clueless about the entire trip until I had gotten here. In hindsight, I should have spoken to them before I committed to the program and regarding what the program was like and who I was going to be with, etc.
ABV: Our volunteers get at least 10 emails regarding the program, each step in the application, reservation and your ABV account have guides, useful links, our website has a chat online, toll free numbers and much more to get all the information you need prior the trip, this is not a valid answer. We also send 2-3 emails while you are in country and you never emailed us back.
9- What do you think about the reservation system online?
I would have preferred to know if any other volunteers were going to be doing the program with me and if anyone else was going to stay in my host family. The system was fine expect they were not hands on and did not contact you unless you approached them.
ABV: volunteers have all the tools to contact us if they need. We provide everything online, if you have any questions contact us, we answer emails the same day and call back if you leave a message if the lines are busy. Also the Abv account will show a week prior traveling if you will be placed with other volunteers. Its your responsibility to check your ABV account for updates.
9.1- Who did you find Abroaderview website
I searched volunteer opportunities working in an orphanage abroad and I went through a couple websites until I found ABV. Overall it was the best price and had good feedbacks. I trusted it because it was a .org and had a government code to put on your taxes making me believe it was a legitimate organization.
ABV: many websites with .org are not always non profit, we are a US charity NonProfit all your expenses to volunteer are tax deductible.
10 – Are you willing to speak to other potential ABV volunteers?
Yes, of course. I would love to speak with anyone regarding my experience.