I almost cried on my last day volunteering, as my teacher Carolina and all the ninos/ninas gave me a big hug. All the teachers at the day care and the director really appreciated my efforts and hard work during the month despite my poor Spanish! The kids wore me out every day but it was very rewarding and I will long remember the experience!
1- How was the local ABV Coordinator/staff and the support provided in-country?
The staff (Sebastian and Herman especially) for the duration of the project were fantastic. All questions and assistance were quickly and thoroughly answered-provided. Sebastian did a fantastic one on one job during orientation to my project, learning the surrounding area, and using the local buses and taxis. Herman was very helpful with arranging donation for all of my preschool English materials to other older student classes as my 3 year olds were not learning English. My Spanish teacher Cecilia was fantastic not only with teaching beginning Spanish but also sharing culture and local information including a few "field trips to practice my elementary spoken Spanish in the market and other locations".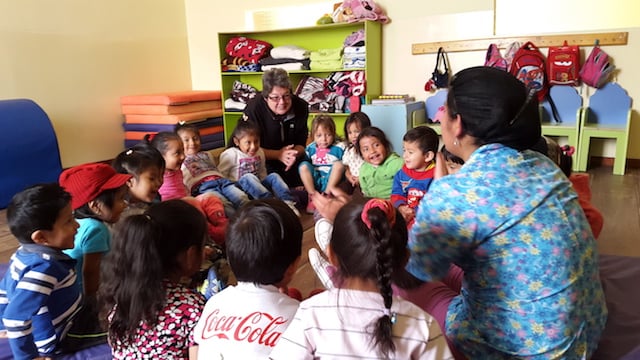 2- What was the most surprising thing you experienced?
Program: I was very impressed with the dedication of all the teachers at the preschool. Despite a very poor indigenous barrio they love their kids and work!
Also surprising was the stark difference between the countryside with volcanoes/mountains and small villages on excursions and the feel of Quito being a big hectic poor city especially near my project day care center
I was also surprised at how the downturn of the Ecuadorian economy (recession, petroleum price drop) has negatively affected this typical middle class family.
3- What was the most challenging thing you experienced?
Program: As a beginner Spanish student, this provided challenge with communicating with teachers and ninos. I learned a lot of Spanish with the kids & teachers!
Host Family: Again being a beginner with Spanish was a challenge. However, it was helpful the daughter has very good English when she was at home (for 2 of the 4 weeks).
Country: Getting accustomed to the poor kids at school, and overall air pollution. The contrast was a village we visited that was spotless in the countryside!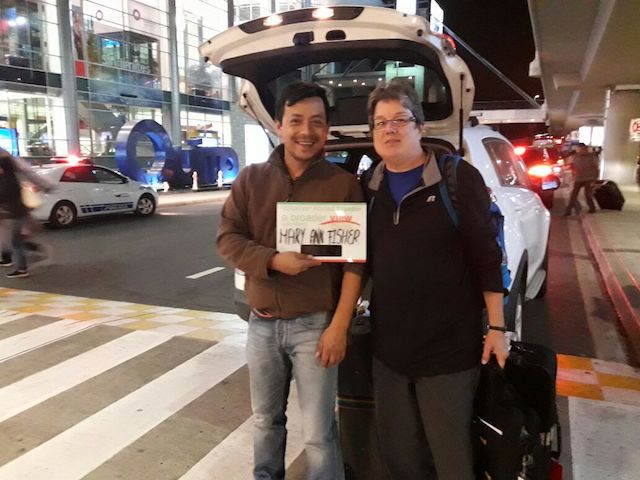 4- Any tips for future volunteers… (clothing, travel, personal items, donations)
1. Listen to the local staff on issues of security and safety, especially using taxis! One day a taxi tried to charge $10.00 for a $1.50 route. We walked!
2. I observed many "materials, puzzles, other play items for the kids from the USA" in my day care. They really appreciate and use "donations" at the projects. Bring lots of donations!
3. Travel on excursions outside the city can take a lot longer using local transportation than we expect. Be patient!
4. Most items can be purchased somewhere in Quito at the grocery store, or market etc. Don't worry if you forget something!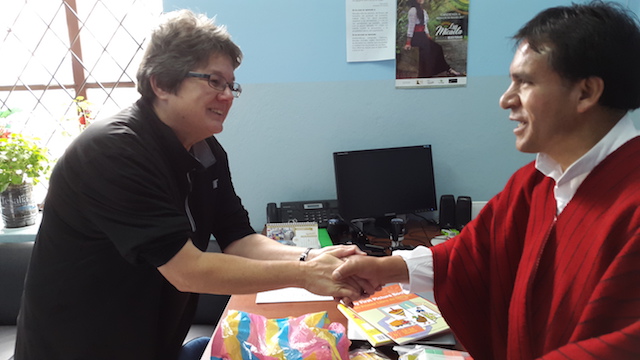 5.1-Other things volunteers should know before coming here:
a. It is very important to NOT place Toilet Paper in toilets at your project, the Spanish school, or in your host family residence (anywhere in Ecuador). Plumbing does not accommodate paper and you MUST put paper in the trash can (basura). I was aware of this as I had traveled in S. America prior for business but I was not told this during orientation either at my family or the school/project office as everyone expects to do this.
b. It is very easy to buy bottled water everywhere in little shops, or the grocery.
c. People really appreciate daily greetings when you meet them (at your project or language class, host family etc.) It is a great way to practice Spanish too!
d. Don't be afraid to "help" anyway needed in your project. Take initiative as the teachers really appreciate your helping out.
e. Comment: Excursions, extracurricular lectures on local food, shamanism, Ecuador National Parks etc. were all provided in Spanish – there could have been side by side translation.
6- Personal Paragraph about the experience (ABV Program Testimonial)
I was delighted to volunteer at the day care center in a class with the 3 year old ninos/ninas. The teacher was very dedicated and creative-artistic. I enjoyed helping out with the daily activities and learning along with the children. The other teachers as well often asked me to help for a moment or two and it was fun to be a part of the entire day care center. Working with the children was fantastic, learning their individual personalities, despite my lack of Spanish, and having great fun during the play times. I also was able to encourage "manners" always speaking with the children using por favor and gracias! Overall, I will have fond memories of the kiddos and teachers for a long time!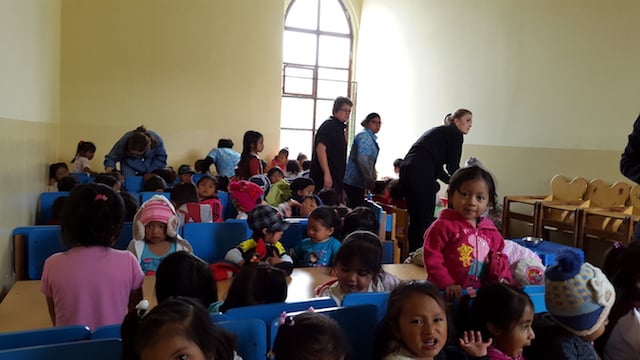 7- How would you describe your accommodation, meals, security, friendliness, quality others:
I was pleased to have my own room in a lovely modern apartment. The security of the building and surrounding neighborhood was very safe and I never worried about walking everywhere. Meals were delicious traditional including heavy on bread, rice, and potatoes. Communication was challenging at times due to my lack of my Spanish. It was fun to learn about things other than Ecuadorian like boy bands in S. Korea, wii games, and visiting with the family on work, travel, and other music interests.
8- What was your favorite memory of this trip?:
Program: I almost cried on my last day volunteering, as my teacher Carolina and all the ninos/ninas gave me a big hug. All the teachers at the day care and the director really appreciated my efforts and hard work during the month despite my poor Spanish! The kids wore me out every day but it was very rewarding and I will long remember the experience!
Host Family: Learning all about the Beatles while watching ancient videos on the TV with Oscar. Oscar is Beatles aficionado and I learned a lot about the Beatles and their music (from long ago) and more recently! It was a fun evening!
Country: I loved the excursions on the weekends provided by the Spanish school to Otavalo and Cotopaxi seeing the mountains – volcanoes, visiting smaller villages, experiencing the market and practicing Spanish while shopping. I am not a big city person and loved the Ecuadorian countryside and the giant volcanoes.
9- How was the ABV USA support prior traveling?
Sarah was exceptional with support prior to my departure for Ecuador. All queries were answered immediately and the suggestions for donations and gifts for the family were fantastic.
9.1- What do you think about the reservation system online?
The online system for providing all necessary documents worked effectively.
I had some difficulty with understanding the "chat" function (probably me computer error!)
9.2- How did you find Abroaderview website
Googled volunteer – Spanish immersion and found Abroaderview in the search results
10 – Are you willing to speak to other potential ABV volunteers?
Yes