Volunteer in Ghana, This was my first volunteer abroad program and I'm so glad I picked this one out of the many others I sifted through online.
Volunteer in Ghana Kasoa Orphanage
HOW WAS THE LOCAL COORDINATOR/STAFF AND THE SUPPORT PROVIDED IN-COUNTRY?
Shadrack was very helpful and responded quickly when I needed anything. I had gone directly through him for any and all issues.
WHAT WAS THE MOST SURPRISING THING YOU EXPERIENCED?
Program: The minimal resources the school had. The classrooms were very basic and bare. No electricity and the wooden desks are falling apart. Teachers would have to bring school supplies home and couldn't leave it in the classrooms just in case.
Host Family: The living situations. I had imagined it would be very basic, but my living space was about the same as the host family's spare for 3 people to live in. it was basically a bedroom, living room and a kitchen all in one area.
Country: I didn't expect most of the area we stayed in to have all the unfinished roads. Can't imagine how people can find their way after dark. The kids had to guide me to find the closest vendor that sold water near the school even though I had walked there every day and it was a minute or less away!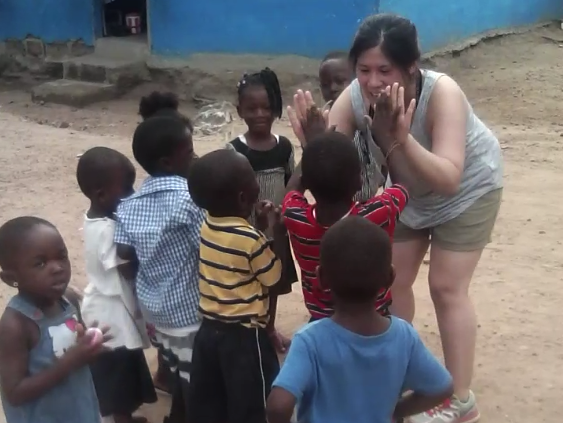 WHAT WAS THE MOST CHALLENGING THING YOU EXPERIENCED?
Program: it was challenging to see how the kids lived and the limited resources they have and not be able to do much about it to help long-term right away.
Host Family: It was challenging at first living in my room by myself. My phone provider doesn't give free calls, so I was worried if I needed something it would be hard to get in contact. Later I on I did add Shadrack on Facebook messenger and he was very responsive to my messages and I felt much better.
Country: the obvious challenge is not being able to speak the language "twi". Also being able to navigate anywhere myself alone. I'm very glad Shadrack was always there to help, but I'm so used to being independent and doing things on my own.
Gap Year Ghana
ANY TIPS FOR FUTURE VOLUNTEERS?
Ghana is mostly cash based. Bring cash to exchange. Credit cards may not work in some areas if you need to pay with a card.
Bring your student ID for a discount on sightseeing in your free time. ISIC Card
Any donations are much appreciated. I bought a ton of school supplies and the kids were very happy.
PERSONAL PARAGRAPH ABOUT THE EXPERIENCE (PROGRAM TESTIMONIAL)
This was my first volunteer abroad program and I'm so glad I picked this one out of the many others I sifted through online. The coordinator's background on how he started this orphanage was truly inspirational. I could go on and on for pages about my experience but there's not enough space here. All I will say is to come with no expectations + an open mind. Was so touched by this experience that I plan on continuing to help as much as I can. Even got one of my friends to strongly consider doing this next summer after she saw all the pictures that I posted. Do hope to come back sometime in the future to visit the kids.
HOW WOULD YOU DESCRIBE YOUR ACCOMMODATION?
Accommodation: The accommodation I had was comfortable for 2 people. As expected, there was no a/c but I didn't expect there to be any running water. I came right at the end of their dry season and experienced one of the first big storms.
Meals: The meals were delicious. It surprised me a little to see how common it is for people to eat with their hands.
Security: When I went anywhere with the kids or Shadrack, I did feel secure. However, walking along draws too much attention. Especially when people were talking to me/about me and I didn't know what they were saying.
Volunteering in Ghana
WHAT WAS YOUR FAVORITE MEMORY OF THIS TRIP?
Program: The kids! They were so welcoming, not shy and very excited to meet me. Love watching them play outside unlike in the US where many kids are glued to their phones or Ipads. I love how excited they get with the simplest things such as when I brought crayons and papers.
Host Family: Introducing Eugenia how to cook spam. I brought some over for the kids to make quick and easy meals at the orphanage.
Country: After learning how to say "how are you" in twi, I started saying that to everyone. This amused a lot of the kids and surprised locals in a good way. I wish I stayed longer to learn more phrases.
HOW WAS A BROADER VIEW SUPPORT PRIOR TO TRAVELLING?
I used the chat online feature and received a very quick response. I had a lot of questions and they were all answered thoroughly.
WHAT DO YOU THINK ABOUT THE RESERVATION SYSTEM ONLINE?
It was simple and easy to use.
HOW DID YOU FIND ABROADERVIEW WEBSITE AND WHAT KEYWORDS DID YOU USE?
Google "best volunteer abroad sites" "volunteer abroad" "one week" "short-term" "Africa volunteer"
ARE YOU WILLING TO SPEAK TO OTHER POTENTIAL ABV VOLUNTEERS?
Yes