Volunteer Honduras, Volunteering to provide medical and dental care here in La Ceiba Honduras was one of the most memorable and rewarding experiences of my life.
Volunteer Honduras
1.-How was the local ABV Coordinator and the support provided in-country?
The local coordinator was absolutely excellent. He was extremely accommodating making sure we are well taken care of throughout the entire duration of our stay. He set us up with pre-medical and medical students as well as dentists in training who hung out with us most of the time and took us to Fantastic places off the beaten path that you would never see as an average tourist. They went with us to fantastic restaurants and we ate some of the best local food to be found in La Ceiba… maybe even all of Honduras.
He made sure we had all needed meals breakfast, lunches, & dinners made for us at his house and ready when needed. Sometimes when we went out we didn't need to eat at home and he was very understanding about that.
He escorted us to and from the facilities where we worked and made sure that we had everything we needed at all times.
He put us up in his house and took care of us like we were his own relatives. I can't say enough great things about Raphael.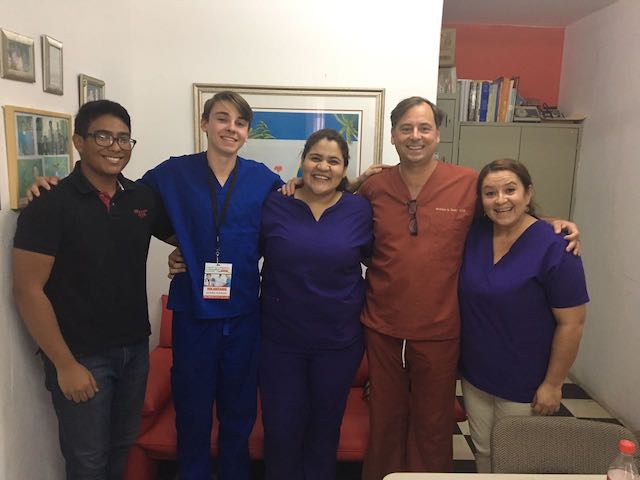 2- What was the most surprising thing you experienced?
Volunteer program: The complete and total lack of good modern, operating equipment, as to be expected in a third world country.
At the accommodation: If you're used to United States standards it's a slight adjustment but nothing you cannot adjust to or live comfortably with once you get used to it.
About the country: Things seem to break down and fall apart everywhere and it appears that there is not enough money to fix them.
Virtually every road is in need of significant and major repair. Because of this every car breaks down due to the constant shaking and rattling through the potholes.
3- What was most difficult to experience?
Gap year program: Lack of up-to-date functional modern equipment which makes your job so much easier to do. Therefore without this equipment you have to get very creative to get the job and the task accomplished.
At the accommodation: There was no air conditioning and the shower didn't work as the water company had to fix the main water system so we used the bucket water in the bathroom, these issues are common after strong rains, but we had water.
The country: The driving here is literally insane.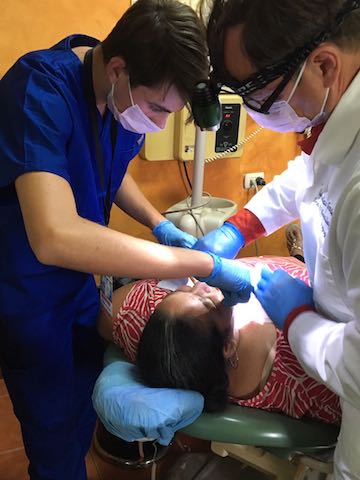 4- Any tips for future volunteers…
Clothing: If you are a doctor and have your doctor's coat, you need pants. It's very hot and you think you might be able to wear shorts but as we all know you must wear pants to the hospitals as well as the dental clinics. If you don't have pants you will need to buy some.
Donations:  Bring as much medical supplies as you possibly can of almost any variety. Dentists should bring full armamentarium of dental extraction instrumentation.  They're in dire need of an ultrasonic and Root Planer. Any old equipment that you're no longer using bring it. They are in dire need of sterilizers old autoclaves that may still function that you don't use anymore, etc.
Any used instruments or tools that you have that you can part with, bring them then donate them.
Weather: It is very hot because and there's no air conditioning. Don't worry about that you will sleep comfortably with the fan they provide.
We were worried about mosquitoes before we came but we haven't seen a single mosquito while we've been here in La Ceiba.
4.1- Other things volunteers should know:
a.- Exchange lempiras in small denominations – 100 lempiras or less. Most places do not have change for $500 lempira bills. 
b.- You need to carry small bills for taxis and you need 25 lempiras for each person that rides. Whether it's two blocks or three miles it's the same Fair.
c.- since you are donating equipment and supplies, you will have room in your luggage for souvenirs. They have really cool souvenirs here. And that's a good way to pump some money into the local economy.
d.- everyone involved in this program is extremely willing to help and they're awesome.
5- Personal Paragraph (ABV Program Testimonial):
Volunteering to provide medical and dental care here in La Ceiba Honduras was one of the most memorable and rewarding experiences of my life. The people here really need the care and the equipment that we donated. It was also rewarding being able to perform and teach some extremely useful Oral & Maxillofacial surgical procedures on the patients and doctors working here  (respectively). I would highly recommend doing this program here in La Ceiba Honduras to anyone.
6- How would you describe your accommodation, meals and security:
In the United States we are used to a completely different way of living our day-to-day lives. Everything is in good repair, everything works well and everything is comfortable and easy. In most other parts of the world that is not always the case. That is true of Honduras. However, while accommodations may have been somewhat lacking to most people given the way they live in the US, once you get used to them everything is just fine.
Not having a working shower is something you definitely have to, but do get used to. You simply use the bucket and dump water over your head, lather up and then dump water again to rinse it's no big deal. The local water company was fixing the pluming in the city after a strong rain.
Meals were great – typical standard cultural Honduras cuisine. This is exactly what we wanted anyway I would not change a thing the meals were great.
Security is excellent in fact probably the strong point of the accommodations here. There's a locking gate out in front of the house which appears to be virtually impenetrable and that made us feel extremely safe.
7- What was your favorite memory of this trip?
Program: performing and teaching a little known surgical procedure for the temporomandibular joint on a patient who could not open his mouth without significant pain in his right jaw joint. I performed an arthrocentesis procedure and taught the dentist in the clinic how to do it for their patients in the future. The patient experienced immediate improvement and he was very appreciative.
Country: The beauty of the country as well as its people and their welcoming and accommodating spirit. They also are, without a doubt, very appreciative of the help we gave them the work we did and the equipment and supplies we donated.
8.- How was the ABV USA support prior traveling?
Communication (Phone/emails/Online chat): There was a bit of a misunderstanding as my 17 year old son did all of the pre-trip communication with ABV USA. He thought he had registered both of us for the program when in reality he only registered himself. But it was taken care of.
9 – Are you willing to speak to other potential ABV volunteers?
Yes
10 – Can you tell us how did you find or know about A Broader View?
A friend of mine who is an Oral & Maxillofacial Surgeon  (such as myself) has a son who also wants to become an Oral & Maxillofacial surgeon. That requires volunteering at hospitals in the USA, doing community service, and joining programs like A Broader View.