Volunteer Ecuador: I would recommend volunteering with A Broader View because they offer a broad range of volunteering opportunities not just all over Ecuador but all over the world. The staff are all very knowledgeable and accommodating
Volunteer Ecuador
1- How was the local ABV Coordinator and the support provided in-country?
Both coordinators were knowledgeable, professional, responsible and very kind. The girls felt that they understood how to connect to them as teens.
2- What was the most surprising thing you experienced?
It was impressive how nice and helpful everyone was across the board.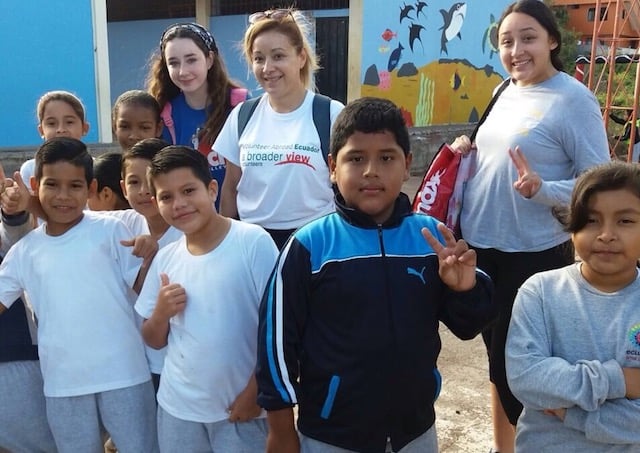 3- What was most difficult to experience?
I would have to say stomach sickness due to change of food and water. This was very uncomfortable.
4- Any tips for future volunteers… (Clothing, travel, personal items, donations)
Pack light versatile clothing and should include waterproof shoes and jacket. Bring items you need like sunscreen, insect repellant, toiletries, anything else you may need from the states. The brands we are use to are not available in Ecuador.
I would ask to communicate with someone where you are volunteering to find out what donations they may need in advance.
5- Other things volunteers should know:
a. Bring a small laundry detergent so you can hand wash clothes. Clothing gets damp this time of year, so this will keep everything fresh
b. If your stomach does not feel well go right to pharmacy to get medications. They are pretty effective.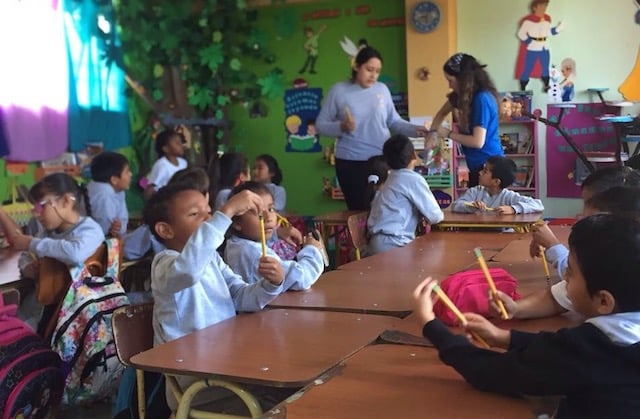 Volunteering in Ecuador
6- Personal Paragraph (ABV Program Testimonial):
I would recommend volunteering with A Broader View because they offer a broad range of volunteering opportunities not just all over Ecuador but all over the world. The staff are all very knowledgeable and accommodating. They were very willing to work with up in constructing a program that worked for us given our tight timeframe. Most of all we felt taken care of which is important when you are so far away from home is a foreign environment.
7- How would you describe your accommodation, meals, security (e: host family, on-site, shared)
The accommodations were safe, comfortable and meals were well balanced and nutritious.
8- What was your favorite memory of this trip?
The children were adorable and eager to work with us. We brought many English books translated into Spanish which they could not wait to get their hands on. Their enthusiasm was priceless.
9- How was the ABV USA support prior traveling?
The support was very good in preparation for travel.
10 – Are you willing to speak to other potential ABV volunteers?
Yes anytime!