Volunteer Chile: This was always an amazing time. I've made some great friendships in getting to know the other volunteers. Overall the trip was amazing and it gave me a great chance to volunteer, practice Spanish, and get to know Chile.
Volunteer Chile
I'm  a rising senior in high school while also working a part time job in a restaurant.
I'm from Cary, North Carolina of the United States.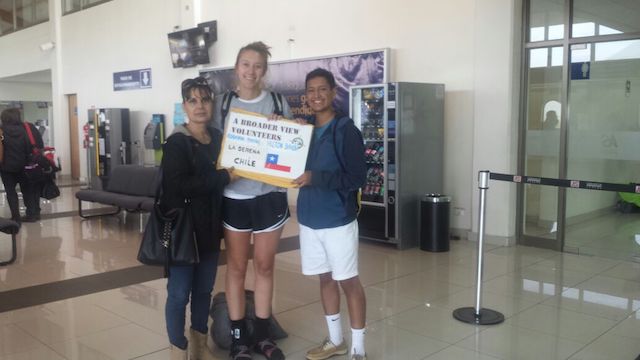 1.- Why did you choose to volunteer in Chile La Serena, what program(s) are you doing and why? 
Why Chile: I chose Chile because I've taken years of Spanish classes, therefore I wanted to go to a place where I could practice it. Chile is also known for beautiful people, scenery, and a liveliness I wanted to experience for myself.
What program: Teaching and education.
Why this program: When I go to college, my goal is double-major in education and Spanish. Working in a school would help further expose me to what teaching is like as well as immersing me in the language.
2. What was the most surprising thing you experienced while in the program? 
Program: The program description online was a lot different than what we actually did in the school. We mostly worked in math classes, solely helping students with independent work after a lesson was taught. I felt the description online before I came painted a much different picture of what we would be doing in the school.
Host Family: I came planning to help with household work and chores, etc. We offered often to help, but the host mom did all of that for the whole family.
Country: The country is very developed compared to images fed to Americans of South America. Of course La Serena wasn't as developed as my hometown, but it surely came close.
Volunteer ABV: Program:each experience is different, the teachers may change what they need form the volunteers, if you are set in one type of lessons informed the teachers and local coordinator so this can be resolved the first week. Also email ABV US for any assistance, we didn't get any email from you regarding this subject. Host Family: some host moms in Chile like to spoil the volunteers, don't let them.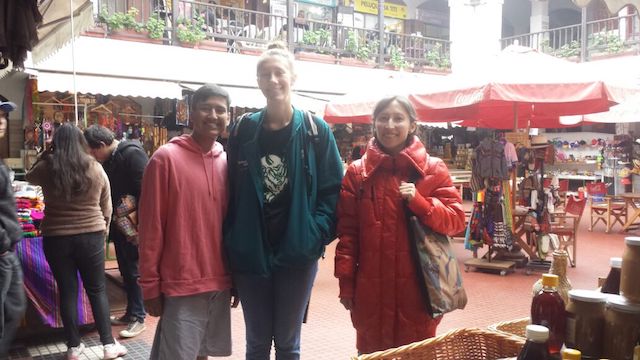 3. What was the most difficult thing you experienced while in the program? 
Volunteer Program: Sometimes I felt I wasn't making a big difference as I could have, or that the school wasn't really using me well. The other volunteer and I worked in the same classrooms all day with only one teacher. I thought she had almost too much assistance, thus I couldn't make that big of a difference. Also, at the school we didn't get invited to eat lunch or play with the kids during recess. I think that's crucial to developing relationships with them, therefore it was a little difficult getting to know them. Also, the system of using a colectivo to get to the school in the morning DOES NOT work at all. The colectivos are always full in the morning and we would wait for upwards of an hour just to find one.
Host Family: They were incredibly nice people with a welcoming family.
Country: The colectivo system! Milton and I would wait hours in the morning trying to find a colectivo that wasn't full, often making us incredibly late to school and frustrating me.
ABV: Program: Volunteers need to jump in, ask to do more or change subjects, talk to your main teacher, to the local coordinator and to the ABV US office if you don't talk to us how can we help you. As a country in development the transportation can be an issue, but most volunteers walk to the school early in the morning as its 20-30min away, again talk to the local coordinator on how to deal with the transportation problem. Don't travel at the peak hours.
Any tips for future volunteers….
Clothing: Bring a variety of clothing. I was there for two weeks and brought enough clothing for a full week of winter weather and a full week of summer weather. This was perfect because I always prepared for everything and only had to do laundry once a week.
Sightseeing: Travel on your weekends!! Both weekends the other volunteers and I stayed in hostels and explored neighboring towns like Pisco de Elqui and Vicuña. I made some of the best memories doing this and highly recommend it to the other volunteers. The host families are really understanding of you going away on the weekends.
Laundry/internet: Make sure to pay your host family for laundry and internet even if they don't ask. They are doing a really nice service to us and we took up a lot of the network, so just insist on paying.
ABV: as stated in all our paperwork neither laundry or internet is included, pay in advance for this service to the host family.
5. Other things volunteers should know about: 
a.- City/town: Everywhere we went to eat, asking for separate checks was really difficult. When going out with other volunteers, try really hard with the waiter before the meal that you guys want to pay on completely separate checks.
b.- Weather: The winter in La Serena is quite cold. It says online 55 degrees F-60 degrees, but pack clothes for 30 and 40 degree weather as well. NO WHERE has heat which we don't realize how much we use it until you get here and are cold all the time. Also bring warm clothes though because on the weekend, if you go to Elqui Valley it's quite hot.
c.- Local People: The local people are great. Never be afraid to ask for directions or help. I never got turned down.
d.- Tours: We rode horses in Pisco de Elqui, I highly recommend doing that. We also went to the reservation and Isla Damas through Ecotourism. Both were great experiences, I highly recommend fitting in both while you're here.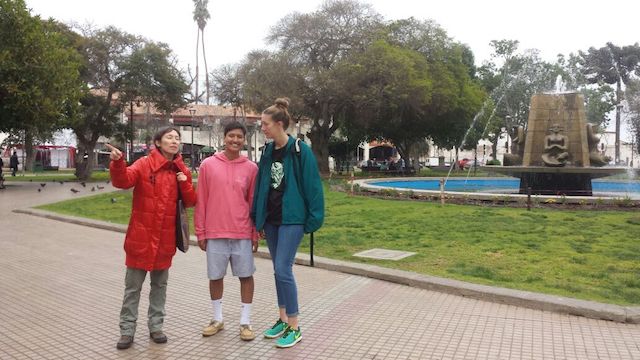 6. Personal paragraph (volunteer program testimonial), detail as possible:
The 3 weeks were mixed with challenges, success, fun, and insightful experiences. The students loved us and we loved them. We would wake up every morning and go from 8am – 5pm, which was quite tiring. I really underestimated how much work volunteering in a school would be, however it payed off. Every weekend here, we traveled with the other ABV volunteers to places ~2 hours away from La Serena. This was always an amazing time. I've made some great friendships in getting to know the other volunteers. Overall the trip was amazing and it gave me a great chance to volunteer, practice Spanish, and get to know Chile.
ABV: We tell volunteers to come with no expectations, go with the flow and talk to our staff if you need help.
7. How would you describe your: 
Accommodation: Great accommodations. The wifi, laundry, bedroom, and bathroom were all functioning great.
Meals (favorite): I loved the Chilean Rice. Also, I really enjoyed the fajitas.
Security: I never felt unsafe in Chile. As long as you are smart, you will be 100% safe.
Host family: The Rivera family was amazing. I am going to miss them so much when I'm gone. They represented Chilean Hospitality in the best light possible.
8. What was your memory of this trip? 
Program: Getting to know the students and other ABV volunteers. They were all amazing and I have great anecdotes of good times with them.
Host Family: Family meals were always really memorable. I was able to practice my Spanish while learning more about there perspective on things like Chilean culture, politics, and social issues. I also just got to know them better as people as well.
Country: The country itself has the most beautiful scenery one could ask for. I plan on returning one day because some of my favorite memories here are viewing the beauty Chile has to offer with the sea and mountains so close.
9. How was the local ABV Coordinator, the staff and the support provided in-country? Be as detailed as possible.
Vilma was very sweet and accommodating. She checked in often and explained things well. She also helped plan our weekend trips and things to do while we were here which we wouldn't be able to have done without her guidance. She's great because she's quite hands off until you really need her. It gave me a chance to grow independently but also ask for help when I needed it. She was a great project coordinator.