Volunteer Chile: I enjoyed my trip a lot. I loved experiencing the Chilean culture. The food that Vilma makes is delicious! I learnt a lot from working at the orphanage, an area that financially has suffered from natural disasters.
How was the local ABV Coordinator/staff and the support provided in-country?
The local ABV Coordinator/staff were very helpful, I always was very informed. I was welcomed at the airport by Vilma and Tania, they were both very nice. Vilma would give me recommendations on places I could go visit on the weekends, and also on restaurants I could go to. Furthermore, Vilma showed me La Serena and helped me change my US dollars to Chilean pesos. She also accompanied me to the orphanage on my very first day.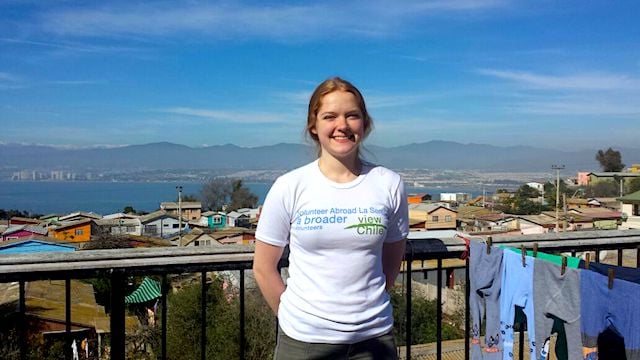 What was the most surprising thing you experienced?

Program: I had never worked with young children before (except taking care of my little brother), and I was surprised to find out how much fun it was. Also, it surprised me that there were so many children in the orphanage.

Host Family:

It surprised me how easy it was to communicate with my host family in Spanish. The fact that Vilma did not speak English (she knew some basic words) was not an issue for me at all, we had almost no trouble understanding each other.

Country:

I loved the city of La Serena! It was beautiful, the people were all very friendly. I enjoyed traveling to other towns around La Serena as well (Elqui Valley, Vicuña). The nature was very

scenic

and I therefore went on a

few

hikes. Also, La Sere

na is located on the coast, so I enjoyed a view on the Pacific Ocean every day on my way to work.

Volunteer Chile Orphanage

What was the most challenging thing you experienced?

Program: At first I did not know how I could help out at the orphanage since no one would ask me for any help. I started asking the "tias" how I could help them and then I started to feel more helpful. Gaining the respect of the children at the orphanage was also pretty challenging.

Host Family:

Coming in June, I expected a relatively warm weather and I was completely mistaken (do your reasearch on the weather). It was very cold in the host house.

I really recommend that potential volunteers bring warm clothes with them if you are not used to 21-22C.

Country: I struggled finding my way around at first. Using Google maps really helped me. Also, talking with people in markets (like cashiers) could be hard sometimes as they spoke very rapidly (tell them « despacito »).

Any tips for future volunteers…(clothing, travel, personal items, donations)

Bring with you a gift from your home country to give your host family, something that they cannot find in Chile.

Have warm clothes with you if you are going there during June/July. It gets very

cold at night and in the morning.

Have a converter for your phone

charger.

Have some toys, maybe books in Spanish to bring to the children at the orphanage (they have very few books).

Volunteer Chile Orphanage

Other things volunteers should know before coming here: (that's not in the orientation guide)

There are some very good sushi restaurants in La Serena (Jack Sushi for exampl

e)

It is very cold (in the morning and at night) in Chile

.

Do not forget that it is winter there during the American summer!

Know some basic Spanish before coming here. You will have to use public transportation (you should know the appropriate vocabulary for that). Also, if you are planning on working in the orphanage, practice Spanish commands (

you will find yourself using them a lot)

Be ready to do a lot of walking. The walk to the bus stop and back can be very tiring because the host house is on a hill. Bringing a pair of hiking shoes could be a good

idea.




Personal paragraph about the experience (ABV Program Testimonial):
I enjoyed my trip a lot. I loved experiencing the Chilean culture. The food that Vilma makes is delicious! I learnt a lot from working at the orphanage, an area that financially has suffered from natural disasters. I discovered a new passion for working with young children. They are all in need of attention and love and it is great to be able to give it to them.
Volunteer Chile
How would you describe your accommodations, meal, security, friendliness, quality others:
The host family was very very friendly. Vilma is an excellent cook, and it always very nice to have conversations with her and practice my Spanish. La Serena is a pretty safe city by day, though I would not walk alone at night there. There was no heater in the part of the house where my bedroom was, which meant that nights were cold ask for more blankets.
What was your favourite memory on this trip?

Host Family:

When Vilma took the other two vol

u

nteers and me to Coquimbo and then to a sushi restaurant for lunch. She showed us around and was like our tour guide for the day.

Country:

My trip to Elqui Valley and Vicuña was very fun. I went with two other ABV volunteers and this was an opportunity to get to know them and to experience together more of the Chilean culture. It was my first time sleeping in youth hostels!

Volunteer Chile Orphanage

How was the ABV USA support prior traveling? (who helped you, emails, phone calls, chat online, how fast did you get an answer, did you get all your answers)
They were very helpful. All my questions were answered very quickly. Questions on the chat online were answered very fast (in less than 2 minutes).
What do you think of the reservation system online?
I found it very helpful that there were "steps" for the reservation, it made it a lot easier. And the emails that were sent on a regular basis to remind me to finish each step on time were also very helpful.
How did you find ABV( keywords, search engine, word of mouth, recommendation, other…)
I found it online when searching for volunteer programs in South America that accepted volunteers under 18.
Are you willing to talk to other potential ABV volunteers?
Yes, of course! I would be happy to answer any questions that other potential volunteers might have.