Volunteer Trip Peru:  I loved when the kids would know my name and get excited to see. It meant to me that I was making them happy and that alone made me incredibly happy to be there.
Volunteer Trip Peru
1.- Whats was a daily schedule at the program, hours volunteered?
During the weekdays, I would get up at 8 am and go to volunteer. I would come home for lunch at my host mom's between 12-2 and then go back to work till 5. This would total to about 7-8 hours in a single day. The weekends I got off of work which was really awesome because this gave me time to explore all Cusco had to offer.
2.- What was the most surprising thing you experienced?

Host Family: With my host family I was really surprised by how big Maria's house was and well kept. I was expecting to stay in a house a lot smaller but it was a good surprise to see that I would be living in a very nice house (2 floors) for the month.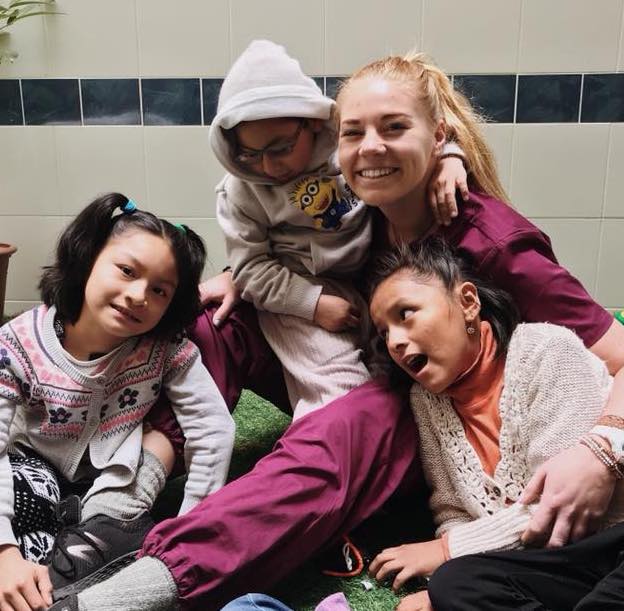 Program: In my program, I was surprised that there were so many people volunteering and helping in the clinic. I was the only one staying with Maria that was volunteering in the clinic but there were people every day that came into work that was just volunteers. Whether it was older ladies, nuns, or even some middle schoolers. It seems that people in the community are big on helping others that need the help, and I definitely saw this.
Country: Peru (Cusco) is way more beautiful and cultured then I expected. The mountains are beautiful every direction you look and there is so much history here. It was cool to be able to learn about the Incas and how much improvement there has been here in Peru. Tourism has helped their economy grow rapidly.
3.- What was the most challenging thing you experienced?

Host Family: This is hard to answer because there really wasn't anything challenging in the house. The only thing I can think of is getting used to the different styles of eating and the timing of the meals. Here the lunch is the most important meal, and for me, I was always used to having a big dinner. This took some adjustment to not get feed a bigger dinner but it wasn't an issue.
Program: In my program, it was hard that most of the nurses or doctors didn't speak English. Granted it is my fault for not having a larger vocabulary in Spanish but I did expect to be able to communicate better in the clinic. This was hard at first but after learning some necessary vocabulary for the clinic it became a lot easier.
Country: In the Country, I was surprised by how welcoming everyone I met was, they always said Bienvenido!! I always was shocked at how many travelers there are. Cusco is a huge attraction and I met many people that were traveling through Cusco (mostly to see Machu Picchu!)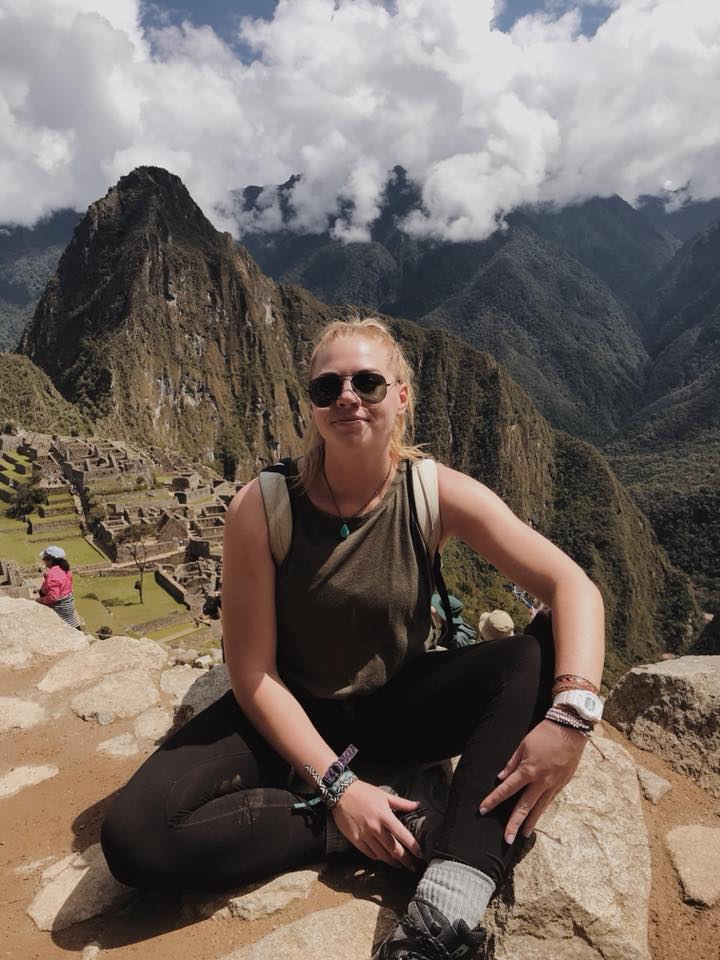 4.- Any tips for future volunteers… (clothing, travel, personal items, donations, money, internet)

I would recommend bringing a big chunk of change, I stayed a month and went through my 500 dollars in less than 3 weeks. There are ATMs but most of them make you pay a fee when getting money out of a card. Therefore, bring a good chunk of US dollars and you can convert to soles when you get here.
If you are thinking about how you are going to use your phone without data here in Peru don't worry!! I have been just fine using only Wi-Fi, and trust me I am on my phone a lot but it was nice not having service while walking the city or out with friends. I do not think it's necessary to get a SIM card here or anything like this. Restaurants/ coffee shops and Marias Wi-Fi is more than enough.
5.- Other things volunteers should know before coming here:

Host Family: Maria will help you with any weekend trips you plan to do. She will set you up with a company and get you all the information you need. Don't worry about booking this trips before you get to Marias unless you're in the peak season of Machu Picchu. (look into this)
Program: Some of the days may feel long in your workplace but you have to remember why you are doing this! You are here to help others and the reward when it's all over is amazing. It is so cool to see the smiles on the kids' faces when returning to work every morning and they remember you.
Country: Your time in Peru will go very fast. My month felt like a week. See as much as you can and experience as much as you can or you will regret it. You don't have as much time as you think you do.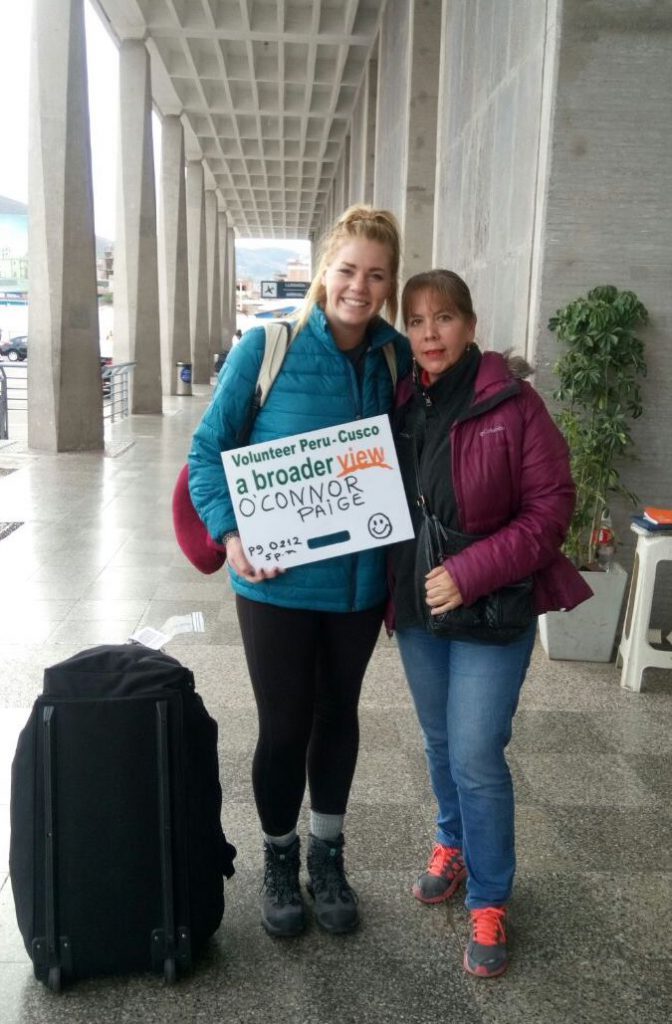 6.- Personal Paragraph about the experience (ABV Program Testimonial):

My time here in Cusco could not have gone any better. The people, the work, the city, the food…everything was amazing. For me, being in Cusco a month was a perfect amount of time. Anything less would have been too short to see everything Cusco has to offer and now I am going on to travel a little bit more of South America (Bolivia and Chile)! I just graduated from college and knew that I wanted to travel somewhere new but I also wanted to make an impact wherever I went. I found A Broader View online and I am so glad I did. This program has been great for me and has set me up with new life experiences and a different outlook on life itself.
7.- How would you describe your accommodation: meals, security, friendliness, quality others:

Meals: I am neither a picky eater nor will I eat everything and I would rate the food as excellent. There was never a meal that I didn't eat everything off my plate. At lunch there is always soup to start, a salad maybe, and then the big plate with (rice or chicken or pasta or something filling!) I never felt hungry because Maria will feed you a lot of food.
Security: Being a girl I was a little scared going to a country all by myself but this did not seem to be an issue. Not even once did I feel like I was unsafe or in danger. They say that you shouldn't be outside at dark but even this I did a couple times and felt completely safe. I never got anything stolen from me, although I have heard of this happening a little bit. Just never have anything valuable in your pockets and keep your bags in front of you.
friendliness: As I stated above, everyone in this country is very friendly and will help you out in any way they can. They mean it when they ask you, how can I help?
Quality: All food is of the best quality because Maria or her friend that cooks goes out and buys stuff from the supermarket almost every day. Everything is fresh and is cooked for several hours.
7.1.- Score the following from 1 to 10:
Quality of meals: _9.8__ if under 5, what was the issue:
Quantity of each meal: __9.5_ if under 5, what was the issue:
How clean was the house: __9.8_ if under 5, what was the issue:
How safe was the house: _10__ if under 5, what was the issue:
8.- How were the local ABV Coordinator/staff and the support provided in-country: Airport, orientation, introduction to the program, schedule of the program, friendliness, solving problems?
Maria did everything she could to help me and make sure I was okay at all times. She really was my "mom" while I was away from home. Taking care of me while I was sick by giving me lots of fluids and making sure I was rested. She picked me up from the airport and showed me around Cusco the first couple of days before letting me go on my own.
This helped a lot getting used to where everything was in the city and she showed me all the spots that I needed to know for food, laundry, etc. She also took me to my clinic the first day to introduce me to everyone and show me where I will be working for the rest of the month. She took a lot of time, in the beginning, getting me comfortable with where I was. Maria and I had some great conversation and I will miss her when I am back in the United States. I can't thank her enough for everything she did for me while I was here.
9.- Whats was a daily schedule at the program, hours volunteered, activities you did?
At the program, I worked mostly at the children's hospital as they needed the most amount of help here. In the morning the job was to get the kids out of bed, teeth brushed, and change their diapers. Then was breakfast time of which I assisted in feeding the children that could not feed themselves. After this was a little break. I would read with the kids, listen to music, take them outside, play with them on their iPads, or even do some physical therapy with them. Lunch was next, I would help feed the kids again and then take them to their room to get changed and teeth brushed again. The afternoon was more free time and then right before I left for the day I helped get some kids ready for bed. This was a total of 7-8 hours a day.
10.- What was your favorite memory of this trip?:

Accommodation: My favorite time of the day was always lunch time. This meant that everyone stopped working and came together at the table to talk and eat all the good food. Sometimes Maria's family would come over at lunch time and they were always so fun to talk to.
Program: I loved when the kids would know my name and get excited to see. It meant to me that I was making them happy and that alone made me incredibly happy to be there.
Country: I loved going to Machu Picchu of course. Choose to hike the railroad tracks instead of taking a train and it made the experience that much more fun.  Highly recommend doing this. I went with a friend I made from work and we had a lot of fun hiking together.
11.- How was the ABV USA support prior traveling? Emails, chat online, calls, volunteer guide:
I talked to Sarah anytime I had a question or needed help. Her response was always prompt and very helpful. I got frequent emails reminding me of what I needed and what was to be expected. Once in Peru I still got emails asking how everything was and what they could do to help. On my way to Peru, my flight got canceled and I let ABV USA know and they let Maria know I would be coming later than expected. Any problems that occurred, Sarah was always there to help. The support was constant and anytime I had a question it was answered very fast. I used the chat online a ton before I left for my trip for just small questions about this and that. Also answered within minutes.
12.- What do you think about the reservation system online?

For me, I prefer to do everything online. So this system made it easy for me to navigate and figure out what I needed to be prepared to come here. Raising money was also very easy through the webpage they created for this.
13.- Who did you find Abroaderview website
?
I did a lot of research about programs online and found A broader view with great reviews from people and a very good price for a whole month. I found this program all on my own just from hours of searching for the best!
14.- Are you willing to speak to other potential ABV volunteers?
Absolutely, I will answer any questions and be very honest with my answers.